Movie Review: 2002 NYUFF: Teenage Hooker Became Killing Machine In DaeHakRoh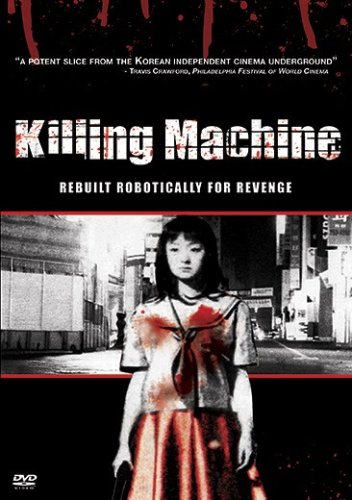 Long title for a short film.
Teenage Hooker Became Killing Machine in DaeHakRoh is more like a featurette than a feature film, clocking in at just 60 minutes, including the full credits running twice: once at the beginning and then at the end. I don't know if that's a South Korean film industry thing — where this movie was produced — or a decision by the film's director, Nam Ki-Woong.
The plot of the film is also pretty much just what the title says: Young prostitute gets pregnant by her teacher. He has her killed and chopped into little pieces by a trio of hit men. Mad scientist finds the girl's dismembered corpse and reanimates her into a robo-hooker. Revived girl gets revenge against her murderers.
So, while the story's pretty slim, at first I thought at least the film was visually imaginative, sort of like what if David Lynch directed a movie for Troma. Artsy but really disgusting at the same time, which is why I became thoroughly disappointed in the flick when the ending was a straight rip-off of the restaurant hit scene in La Femme Nikita, the French thriller remade with Bridget Fonda in the U.S. as Point of No Return. My only guess is that maybe neither of those films didn't get wide exposure in South Korea, so not many people over there would get the reference.
Or, maybe that was just some kind of point being made by the director. Teenage Hooker is a total mish-mash of styles, so maybe the film was being deliberately blatant instead of a weak homage. For example, instead of implying what a marriage between Robocop and Nikita would look like, Ki-Woong gives us his exact vision of that odd child.
But it was also somewhat interesting to see what constitutes an "underground" film in another country, even though I think this selection was maybe a little slick a selection for the NYUFF. I don't know if it was American-made if it would have made it into the fest. It seemed more like an exploitation film than an underground one, which the NYUFF can show exploitation films if it wants, but this particular movie seemed like an odd addition to this year's mix.
Go back to 2002 NYUFF: Investigation Of A Flame, Soundings, Amplified Voices.