Movie Review: 2001 NYUFF: Day 3: Satan Was A Lady & More
So, last night, I ended up sitting next to the same guy for 2 screenings. Talkative fellow. Nice. Didn't seem like the typical 2001 New York Underground Film Festival goer. No artsy pretensions at all. He seemed very interested in my opinions on what we saw and what I was planning to see. He seemed as though brand new to the underground film experience and wanted some tips.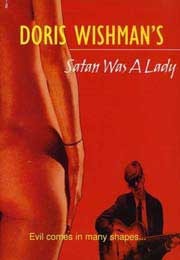 Then, tonite, I see him again, but he's with a friend this time. Guy named Vin. Vin doesn't seem like an art film person either. Talking with these guys, they tell me they saw John Waters in the lobby, not unsurprising as we wer about to see Doris Wishman's Satan Was a Lady. I'm not familiar with Ms. Wishman's work myself, but my new "friends" described her as a "female Russ Meyer". Sounds right up Waters' alley.
Since we were discussing John Waters, Vin informed me that he's dating a girl who lives in Baltimore who comes to NYC a lot for business. Then, Vin starts pushing on his neck and says, "That's why I'm so tired and stiff today, after being up all night doing acrobatics with her."
What the hell is wrong with people? Like I really wanna hear about some stranger's sex life. What a jerk. As if Vin wasn't annoying enough before the film, during all through Satan Was a Lady, his leg would start pounding on the floor like a jackhammer. The whole damn row was shaking. I was ready to rip his leg right out off. Let's see if his woman wants to do acrobatics with a one-legged gimp.
Doris Wishman is an 80-year-old Florida resident whose Satan is the first film she's made in almost 20 years. The script seemed like it was 30 years old. I don't mean that as an insult. Satan is like a lurid 1950s paperback about a bad girl trying to go good, complete with beatnik musicians and sleazy businessmen into S&M. I don't know why I've never heard of Ms. Wishman before. I'll have to try to find some of her older films.
Prior to Satan, I saw Curse of the Seven Jackals, a film I admit to not thinking I was particularly enjoying as I watched it, but I now believe was a sublime, beautiful film that digs more into the unconscious than plays naturally on the conscious mind. I may have to call this the "James Fotopoulos Syndrome" (more on him later).
Directed by Chris Jolly, Jackals is ostensibly about a young man, Bernard, who wants to travel to Egypt and who's undergoing "synthetic blood" transfusions to earn money for the trip. According to the program notes, Jolly insists that synthetic blood is a reality and should be available in the marketplace within the next couple years. I don't know if Jolly's messin' around or what.
His film certainly screws with your head. Most of the "action" takes place in the motel room Bernard is living in and where he befriends a simple-minded, middle-aged maid named Helen. Helen reminded me much of a tamer Edith Massey, the late star of many John Waters films. Helen invites Bernard to bingo and karaoke. Going mad from the transfusions, or I would assume from the transfusions as they are never shown on camera, Bernard also takes up wrapping himself in toilet paper and running around a field pretending to be a mummy.
That's about it for the plot of Jackals, but worth mentioning in this review is the film's radical cinematography which gives every shot a nauseatingly green tint to scenes that are either drastically over or underexposed. This, combined with a sparse, minimalist framing style and tragically slow camera motion, Jackals gives a nightmarish intensity to a somewhat bland plot, which is why the movie has stuck with me long after it has been over.
The third and final feature of the evening was a documentary: Burning Man: The Burning Sensation, a film that has been picked up by The Shooting Gallery for regular release.
"Burning Man" is an event I've heard about for years that takes place in the American Southwest desert where people live for a week to express their hippie love, take illicit drugs and display outrageous performance art. The week then culminates in the burning of a 50-foot or so wooden and neon statue, the burning taking place every year on Labor Day.
I was anxious to see what all the fuss about Burning Man was and I think the film let me down. What's onscreen is interesting and funny for the most part, but the last 5 minutes consists of quick cuts of various goings on during the festival and I wondered why this stuff was thrown in at the end rather than be incorporated more into the rest of the film. I felt like I missed out on something.
The film focuses on the lives and projects of about a half-dozen performance artists, some who are interesting and some who are not. There are also way way way too many scenes of interviews with the creator & organizers of the festival. These interviews are visually uninspiring and don't impart much insight or wisdom. Yes, some background on the Burning Man event is necessary, but the final film lingers on this aspect for far too long.
However, The Burning Sensation is probably a good intro to the festival for those who have never heard of it before and I hope it does well in its release for its director, Alex Nohe.
Finally, I want to quick mention the shorts of the evening. Paired with Satan Was a Lady was I Like Men, an ultra brief snippet I had actually seen before. I would assume the soundtrack to be a found TV ad from the'50s with women hyping men's pants. The animation made to accompany this ad was made by the filmmaker, Anne McGuire in a retro '50s style to match. It's very cute, but very short.
Preceding Burning Sensation was Psych-Burn by J.X. Williams, a '60s LSD trip taken by the Hell's Angels. That's my opinion anyway. Groovy, baby, groovy.
Before Jackals was probably my favorite film of the night, Cat Number Six Is a Coward by Jerome Gariepy. It's a pretty hollow film, but extremely funny and original. No tricks or shocks. Just good humor revolving around a scientist gassing cats for experiments. The star of the short is only seen wearing a gas mask, a white full body lab suit and black rubber gloves. We are told from the outset that he is "an idiot". There are also no actual cats in the movie as cat #6 is a coward and gets away before getting gassed. Just some good clean fun and oddly refreshing.
Continue on to 2001 NYUFF: Day 4: Back Against The Wall.