Movie Review: 2001 NYUFF: Day 2: Mutant Aliens & More
The first night is always the easiest. 1 short + 1 feature = me home in my snuggly bed by 10:30pm with both reviews written.
However, Thursday, the second night of the 2001 New York Underground Film Festival planned out on my "Schedule At-A-Glance" was the second most unrelenting night of film consumption, next to Sunday's brutal 1pm-Midnight act of self-flagellation.
The festival's screenings are juggled between the 2 theaters in the Anthology Film Archives. The upstairs is bigger, but the seats are flat on the floor, which can make viewing hazardous, particularly for subtitled films, depending on who sits in front of you. The downstairs theater, while having most excellent stadium seats, is about 1/4 the size of the upstairs.
There is a comfortable staggering of screenings between these two theaters so that if you cruise programs between them there are nice relaxing breaks where one can catch a breath of fresh (by NYC standards) air. The point I am tediously leading up to is that Thursday had none of this. I was to be confined solely to the upstairs theater for a grueling 7 hours straight.
Here's another long boring set-up for you, too:
About a year & and a half ago, I rented and watched Buffalo 66 with my girlfriend at the time — second time for me, first for her. I thought it was a tremendous flick. She hated it.
Regardless, the climactic scene of the film takes place in a topless bar, during which Holly commented, "Why does there always have to be naked women in movies? You never see dicks flopping around everywhere." She should have stuck out the relationship with me and accompanied me tonight. All the films seemed to be about cock in some way or another.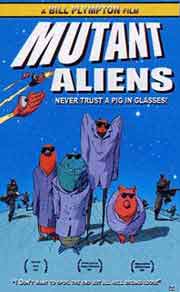 While no cartoon cocks appeared in Bill Plympton's animated feature Mutant Aliens, the first feature of the night, there was one great dick visual joke.
Ready to have sex with his girlfriend for the first time, a guy pulls out his underwear, peers down and imagines his Johnson as various agents of destruction: a chainsaw, a jackhammer, a locomotion engine, a herd of trampling horses, et. al.
Plympton is always reliable for some great gags, but I always want his features to have more energy. His shorts are usually a jam-packed collection of jokes, but spread out over a feature there tends to be much unwanted dead air. However, there aren't many other animated films where you're going to see a man have sex with a giant alien nose, so who am I to complain? I also at least found Mutant Aliens a more satisfying flick than Plympton's first feature I Married a Strange Person.
(More on this film: Amazon)
The lack of actual penis sightings, drawn or otherwise, in Mutant Aliens was more than made up for in the film immediately following: Plaster Caster, a documentary about Cynthia "Plaster Caster" who has been making sculptures of rock stars' cocks for over 30 years.
Plaster Caster was one of my least anticipated films of the festival, but it quickly became my most beloved. It didn't take me long to fall absolutely, positively, head-over-heels in love with Cynthia. Impossibly cute, sweet and personable, I started beating myself up for never having learned to play guitar or sing.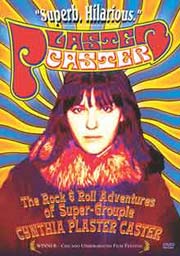 Benefiting from starring a thoroughly engaging and fascinating character, Plaster Caster is also an expertly crafted documentary by filmmaker Jessica Everleth, who followed Cynthia around with a camera for 2 years. At least 40-45 minutes go by before an actual plaster penis is even shown. Until then, the doc develops Cynthia's charming personality so that her outrageous art doesn't overshadow the artist. Just incredibly brilliant move on Villines' part. I sincerely hope the film gets a well-deserved mainstream run, even a limited big city one. It's a hands-down, definite must see.
If you want to take a gander at the lovely Ms. Plaster Caster yourself and maybe donate the use of your own cock, click here.
(More on this film: Amazon)
The third "cock film" of the evening was the last one and which happened to be my most anticipated film of the fest, Shawn Durr's Fucked in the Face. Shawn was the mastermind of last year's brilliant short Meat Fucker. Blown away by Meat Fucker's exceptional outrageousness, I eagerly awaited devouring Durr's newest effort. However, the first half or so of Fucked in the Face didn't have quite the same pizzazz as Meat Fucker. Not that a filmmaker must or even should repeat himself endlessly, but Fucked in the Face felt limp. Had the king of gay shock cinema gone soft? But then the fake jizz started to fly. And lots of it. And lots and lots and lots. Hey, Happy!"s Noam Gonick should consult with Durr to see how a blow job should be shot.
Unfortunately, though, Fucked in the Face left me ultimately disappointed. This was Durr's first crack at making a feature, yet the final product is only about 70 minutes long and is unnaturally padded at that. What left me the most unsatisfied was a loose subplot involving three cock hating, fag bashing lesbians. While the girls' story intersects with the main plot, involving an abused homosexual's lusting for an Andrew Cunanan-esque serial killer, they seem like they almost belong in another movie.
Fucked in the Face probably could have been another short instead of a feature attempt. While shocking sex and violence is cool and all, if Durr wants to make a feature, he needs to more develop every one of the characters in the film, which is why Hey, Happy! Is a more fulfilling work. Even the transsexual with 5 minutes of screen time in Hey, Happy! was a well-rounded person. However, I might be in the minority of not completely enjoying the film. It won the Best Feature award at last year's Chicago Underground Film Festival, so what the heck do I know?
Connected to cock, but only in a vague thematic way was …An Incredible Simulation, an exposé of Midwestern "tribute bands", due to most of the tributes being devoted to "cock heavy" bands such as AC/DC, Van Halen, the Rolling Stones, Red Hot Chili Peppers, Led Zeppelin and, of course, KISS. As one "Stones" member says, "I used to write my own songs, but I got tired of playing for people who didn't want to hear them, so now I cover the Stones and get gigs and get paid and people love to hear it."
An excellent idea and subject matter for a doc, Simulation falters in the execution. Although I have to admit seeing the brilliant Plaster Caster so early on may have tainted my expectations for all other docs in the fest. While Plaster was an excellent exercise in drama and drive, Simulation is more formless, consisting of just interviews and performances. The filmmakers were limited, however, by the interest and level of participation of the bands. For example, when a Neil Diamond/ABBA husband & wife tribute experience tragedy what could have been a fascinating and emotional subplot is sadly barely covered in the film, which the directors, Jeff Economy & Darren Hacker, attributed to the reluctance of the subjects to be interviewed in depth.
One cool tact that Simulation took, tho', that I need to mention was to combine modern-day tribute band footage with a documentary about Beatlemania, perhaps the ultimate expression of band "tributing". I remember my parents taking me to see Beatlemania in Philadelphia when I was a kid. It was cool at the time, but looked positively goofy through Simulation's filter.
The shortcomings of Simulation were also made all the more obvious since it was paired with another music film, a punk rock documentary short from 1978 called Punking Out, covering specifically the hoopla surrounding legendary performance space CBGBs. Directed by Ric Shore, Maggi Carson and Juliusz Kossakowski,it includes classic live footage of Richard Hell, The Dead Boys & The Ramones. The most engaging aspect of Punking are interviews with music fans outside CBGBs. High on the excitement of seeing their favorite punk bands playing live, and possibly high on other substances, the fans' barely coherent ruminations on their passion are hysterical. People caught in the heat of the moment and asked the right questions are necessary fodder for a great doc. (Update: Read a longer review of Punking Out.)
Simulation should have relied on this technique more, tho' it is used a little in the film. Cause what I'd really like to know is: Why in the hell would anyone go see a tribute band in the first place for God's sake? Are people that starved for entertainment in the Midwest?
Also showing tonight were the shorts His Holy Prepuce, directed by Jane Gang and preceding Mutant Aliens, an ode to belly dancing and bubble gum; and Freaks on the Beach, directed by Chase Lounge and preceding Fucked in the Face, an ode to overexposed nudity.
Continue on to 2001 NYUFF: Day 3: Satan Was A Lady & More.