Movie Review: 2001 CUFF: Plaster Caster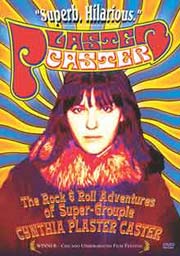 The next film I saw it might seem like I can't review it objectively: Jessica Villines' Plaster Caster. Since I saw Plaster Caster for the first time last March at the New York Underground Film Festival I have become good friends with Jessica and it was she who actually put me up and put up with me while I was staying in Chicago.
Even though I was staying with her, Jessica insisted I didn't have to go to her screening since I had already seen her movie twice (once at the NYUFF and once on video). But I did go for a third viewing for two reasons: 1) to support my friend, and 2) because Plaster Caster totally rocks!
Anything I say here may seem like I'm only kissing Jessica's butt, but I think it's just a tremendous film. You'll have to read my original gut reaction to the flick in the 2001 New York Underground Film Festival review archive to see I'm not totally lying. And having seen Plaster Caster three times now, I have to say the film definitely holds up.
First of all, the subject, Cynthia Plaster Caster — the ultimate groupie who molds rock stars' penises in plaster — is a sheer delight to watch on-screen. She's honest and pure and totally forthcoming about all aspects of her life. She holds nothing back, except for one scene where she's about to have a nervous breakdown and asks that the camera be turned off.
Cynthia is a total gas, but the film is also exceptionally well made and structured. The real benefit to the film is that it doesn't leave cock sculpting as a concept left to the imagination and Jessica was fortunate enough to follow Cynthia through the process of casting two wildly disparate subjects.
First is the reserved Bill Dolan of 5ive Style, who appears completely uncomfortable with being cast after agreeing to do it, and the other is the extroverted Danny Doll Rod of the Demolition Doll Rods, who at times hides behind a nervous laugh but is ultimately willing to be shown "posing" for Cynthia on-camera.
Ian Svenonius, formerly of The Make-Up, gives a smart interview about how the penis is the last taboo subject in America and it is quite a delight watching how castees discuss their encounters with Cynthia. Male rock stars certainly have a reputation for being uninhibited, unrepentant sex fiends, but all the ones in Plaster Caster have distinct problems discussing the very essence of their sexuality — their dicks.
For example, there's the defensive Wayne Kramer of the MC5, the oddball Momus who hides behind an intellectual rationalization for his small size and Noel Redding, of the Jimi Hendrix Experience and one of Cynthia's first, who seems amused and vaguely embarrassed by his youthful indiscretion. But when Cynthia's artwork is displayed at the NYC Thread Waxing Space gallery, Danny Doll Rod proudly stands by and points out his immortalized member.
And Cynthia's Thread Waxing show provides the main suspense of the movie as we get to see Cynthia fret about capitalizing on and finally making money from her art. But can Cynthia break through the "last American taboo?" Plaster Caster is an oddly non-sexual film given that there are so many penises in it, granted most of them are either plaster or bronze. Cynthia gives the impression of being a very sexual being, she's flirty and coy and dresses like a teenager tho' she's in her 50s, but when it comes to making her sculptures, or her "babies" as she likes to call them, she's all business. And really, what is a penis except just another body part? What is it about them that makes us guys so uncomfortable?
I just get a real kick out of Plaster Caster every time I see it and I think Jessica is a very insightful and sensitive filmmaker to have made one of the most thrilling and entertaining documentaries of recent years. Ok, maybe I AM just kissing Jessica's butt at this point, so I'll just cut out now.
One last thing, tho', Cynthia was also at the screening and Jessica introduced me to her. Alas, I was not asked to pose for her. Movie critics get no respect…
Watch the Plaster Caster movie trailer:
Continue on to 2001 CUFF: "Present Tense" (shorts).