Movie Of The Decade: Plaster Caster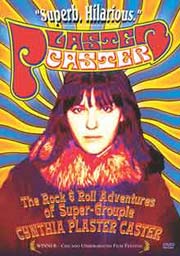 In the spirit of the Underground Film Journal's annual Movie of the Year pick, I've decided that I should equally pick just one film as a Movie of the Decade. And that movie is: Plaster Caster.
The criteria I used to come up with this selection was to choose the film that has had the biggest impact on my life. I've seen tons of fantastic underground films in the past 10 years and Plaster Caster is one of them. But, no other film has had as big an influence on all aspects of my life as this one has.
In 2001, I was just a dork trying to see as many films as I could at the New York Underground Film Festival. One of the films I saw was the documentary Plaster Caster, which I positively adored almost right from the minute it began. After the screening, I wrote a positive review of the film and emailed the link to the filmmaker, which I did for several NYUFF films I had seen that year.
That filmmaker wrote me back to say thanks, as many filmmakers did, but, with this one, that simple exchange of emails grew into an exchange of even more emails and an eventual face-to-face meeting at the Chicago Underground Film Festival. Today, that filmmaker — Jessica Everleth — and I are happily married and living in Los Angeles.
It's true. If I hadn't gone to that one screening, I wouldn't have met and married my soul mate. There's no possible way I could have picked any other film as my Movie of the Decade.
However, Plaster Caster also embodies everything that I'm trying to do with the Underground Film Journal. It's a small, independently-produced film that had a highly successful film festival run at both underground and mainstream fests, then went on to receive a DVD release from a small distributor, earning the film the love and respect of lots of fans and supporters — and yet has been completely overlooked by mainstream media outlets.
And it's an awesome film. For those who still haven't heard of or seen it yet, Plaster Caster is a documentary about the legendary Cynthia Plaster Caster, famous for creating plaster casts of rock stars genitalia. Her collection includes famous musicians like Jimi Hendrix and Eric Burdon, as well as modern indie rockers like David Yow, Momus and Martin Atkins.
The film traces Cynthia's origin as a groupie and follows her as she casts two new musicians: Bill Dolan and Danny Doll Rod. Dolan's casting has its ups-and-downs, while Danny eagerly poses for Cynthia in the same exact hotel room where Jimi Hendrix had been casted 32 years earlier. Plus, Cynthia prepares for the first serious art gallery display of her collection.
There are several reasons for why the film works so well. First, is that Cynthia is absolutely adorable. It's hard not to fall in love with her as she practices her art with equal parts seriousness, playfulness and sexiness. Second, the film is very craftily structured and is imbued with a ton of drama and tension along with a serious inquiry into the nature of art. Getting ready for her gallery debut is a tremendously delicate and complicated process for Cynthia that seems to fray her every last nerve, setting the viewer's nerve on edge right along with her. There's also the drama that's recounted from the time her sculptures were stolen and she had to go to court to get them back.
What's always really impressed me is the way the film weaves together all of these different storylines together into a cohesive narrative. Lots of times documentaries break up their stories into distinct chunks, sometimes separating out each chunk with a title card and sometimes not. Plaster Caster flows along with the grace of a great fictional narrative, hitting on topics throughout the course of the film instead of setting them up one by one in a row.
Plaster Caster is a very dynamic, intricately constructed documentary. Much of its success has to be attributed to everyone else who worked on the film, too, from the intimate, engaging camerawork by Jeff Economy and Ken Heinemann to the flowing, structured editing by Brian R. Johnson.
It's a great film and I'm honored to have named it the Underground Film Journal's first ever Movie of the Decade.
To buy Plaster Caster: Amazon
Watch the trailer: