Movie Journal: Sixties Underground Film Posters And More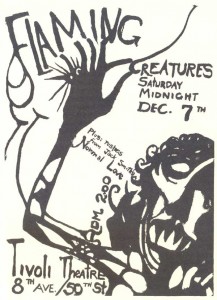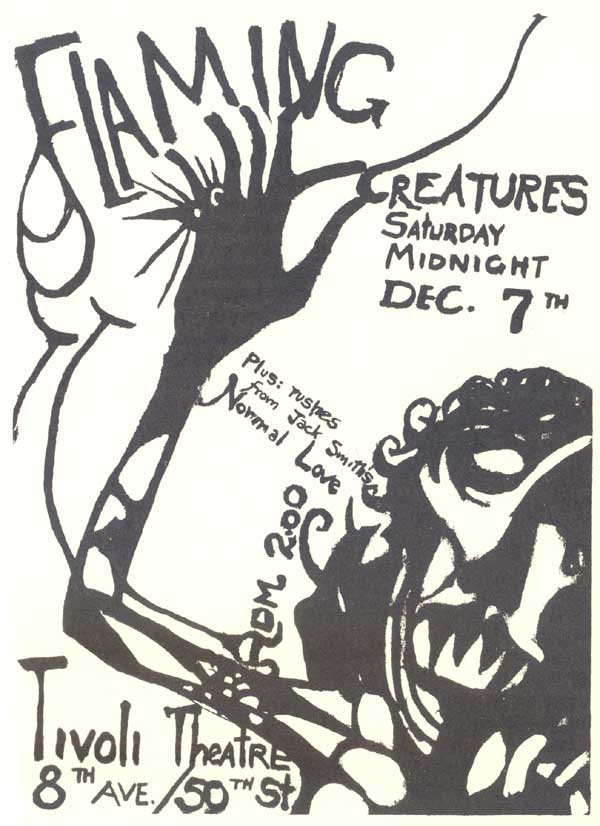 Jonas Mekas' Movie Journal: The Rise Of The New American Cinema 1959-1971 is essential reading for anybody interested in underground film. The book contains excerpts from the "Movie Journal" column Mekas wrote for the Village Voice alternative weekly newspaper for a dozen years. Also included in the book are a couple of movie posters and newspaper ads from that era. If you click on each image in this post, it will take you to an embiggened version of it so you can look at them in better detail.
It's tough for me to pick an absolute favorite poster out of the bunch, but I inserted the most striking above. It's for a special midnight screening of Jack Smith's classic Flaming Creatures. I'm guessing from the date on the poster and the year the film was completed, that this screening took place on Dec. 7, 1963 at the Tivoli Theatre. (The poster doesn't give the year, but in 1963 — the year most generally given as the film's completion date — Dec. 7 fell on a Saturday.)
I'm also not sure if this was Flaming Creatures first public screening or not. Mekas doesn't mention this particular screening in the book. Mekas had seen the film privately earlier in the year and lamented in an April 18 column that the film would never receive a theatrical screening thanks to its frank depiction of full frontal nudity. Clearly, the film did go on to screen theatrically and, eventually, in 1964 sometime Mekas and Flo and Ken Jacobs were all arrested for screening the film.
Next up, I really love this artwork for Mike Kuchar's Born of the Wind: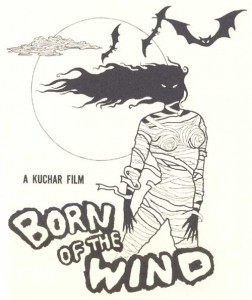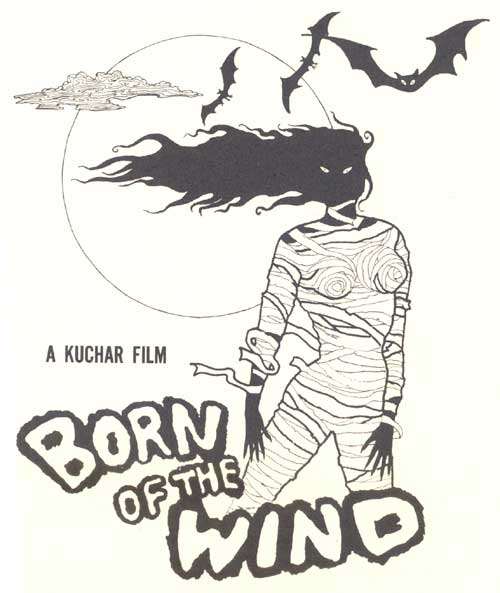 Aside from the cool mummy lady, what's interesting about the above poster is that it's labeled as "A Kuchar Film," making one assume that both Kuchar brothers, George and Mike, worked on it. However, according to the Underground Film Timeline, the film is credited solely to Mike in 1961 as the brothers had split up around that time. Also, Mekas doesn't mention this film by name in Movie Journal, but on March 5, 1964, he interviews the brothers regarding a Kuchar film festival at the New Bowery Theater.
Next, on Oct. 26, 1967, filmmaker Kenneth Anger took out a full page ad in Variety as his "obituary." This is it below: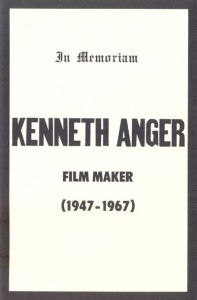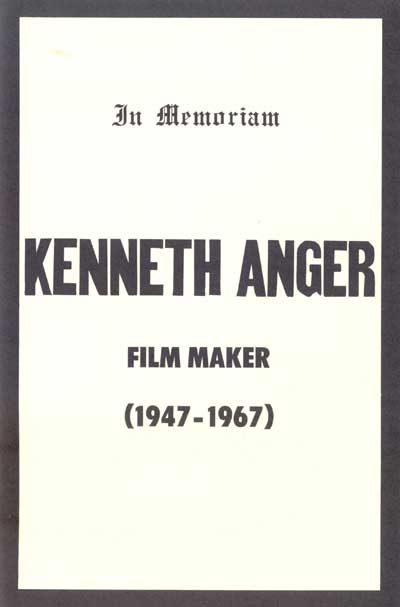 Anger was furious over the alleged theft of the footage he shot for his film Lucifer Rising, so the obituary it was assumed was his dramatic way of announcing his retirement from filmmaking altogether. But, as Mekas notes on Aug. 21, 1969, Anger returned with Invocation of My Demon Brother.
Prior to his "death," Anger was one of the most acclaimed and successful underground filmmakers among his peers. Below is an ad for one his screenings on Nov. 11, 1963 at the Gramercy Arts Theater for his then-new film Scorpio Rising, plus a mini-retrospective of his earlier films. (On the Underground Film Timeline, one source gives the film a definitive completion date of 1963, while another has a rolling date of 1962-64.)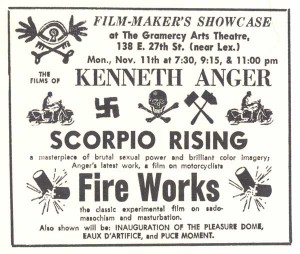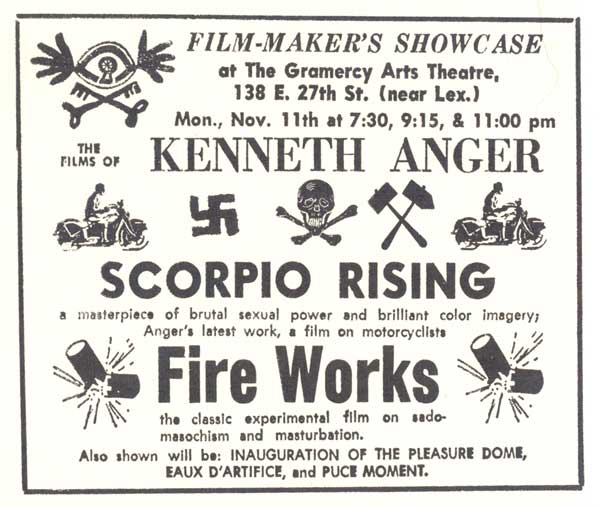 The above scans are the most interesting to me personally. I still like the below ones, though, as they give an idea of what screenings were like back in the day and where they were held — mostly in now defunct theaters it seems.
This next one, from what evidence I can gather from the poster itself is from a Boston screening of Bruce Baillie films at the Filmmakers Cinematheque. I can't figure out the year on this one since the poster doesn't write out the actual day, just the dates. Although I assume it has to be either in 1966 or '67 as three films listed on the poster — Tung, Yellow Horse, Castro St. — all have a completion date of '66. Also, the poster incorrectly lists the one film as Yellow House, not "Horse."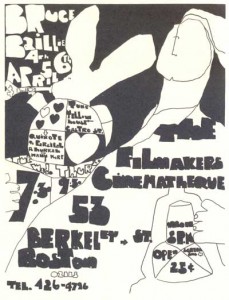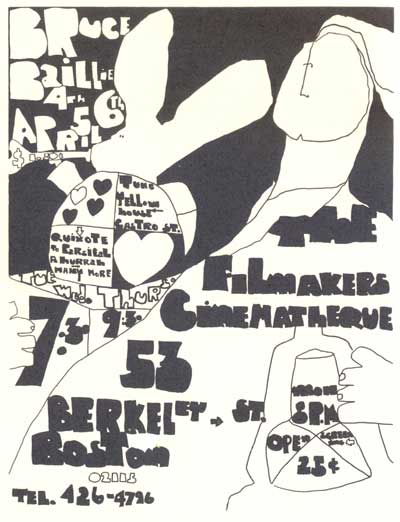 Then, there's this baffling psychedelic butterfly screening poster: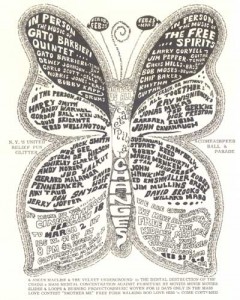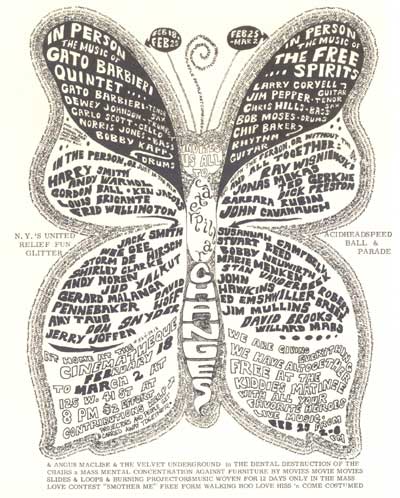 It's tough to read, but the event took place at the Cinematheque in NYC at 125 W. 41st St. and featured the usual cast of characters such as Ken Jacobs, Jack Smith, Andy Warhol, Storm de Hirsch, Shirley Clarke, Jonas Mekas and tons more. There's also a couple of names on there I don't recognize at all.
I'm assuming this next one is a newspaper ad for the World Premiere of Andy Warhol's Chelsea Girls, titled here as The Chelsea Girls.

The film opened on Thursday, Sept. 15, 1966. I'm sure I could look in one of my other books to find out which theater, but Mekas doesn't say. He just wrote about how enthralled he was with the film. But, of an interesting note is that the newspaper ad says the film is 8 hours, but Mekas wrote that he saw a 4-hour version. Does the time difference have something to do with the film's split-screen effect?
Next is either a poster or a newspaper ad for Songs by Stan Brakhage, labeled as "home movies." I can't figure out the year on these either, but the screenings took place at the Film-makers' Cinematheque when it was located in SoHo at 80 Wooster St.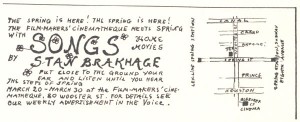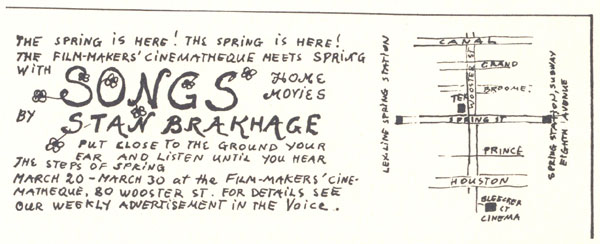 Lastly, there's this primitive, hippie-tinged ad or flyer promoting the Filmmakers' Coop when it was located at 414 Park Ave. South: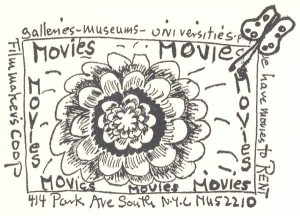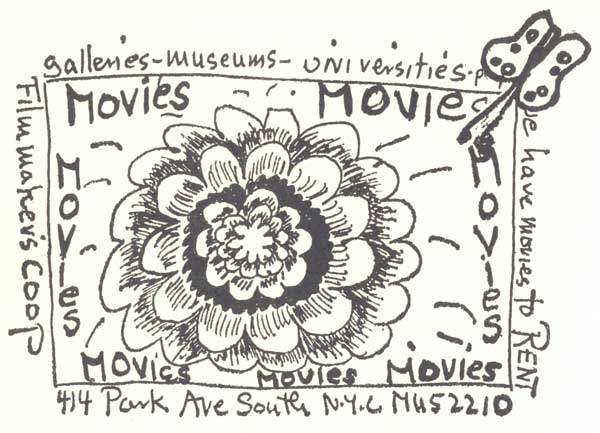 I find looking at posters like these fascinating and it's fun to piece together what kind of scene was going on at the time by figuring out the dates. I wish Movie Journal had a ton more poster images, but I'll have to admire just these for now.