Movie Clip: Robert G. Putka's Mouthful
Embedded above is a teaser clip from the upcoming short comedy Mouthful, directed by Robert G. Putka. It's funny and well-acted, so check it out.
Although Putka has blogged fairly regularly about the making of the film, he's been particularly mum on the details. The clip above gives a little more detail, but not much.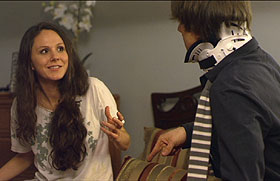 The director previously made the uncomfortable sexual awakening comedy Hooka Face and the Virgin Boy; and Mouthful seems to at least be following along those same lines.
But, what makes the Underground Film Journal particularly excited about seeing the full and complete Mouthful is that the female lead in the clip is actress Eilis Cahill, whose performance we really enjoyed in Andrew Semans's awkward teen romance All Day Long. It looks like she's putting in another thoughtful acting job here.
The male lead is Conor Casey, whom we're unfamiliar with, but is equally good in the clip.