Mouthful, Tumbleweed! At SXSW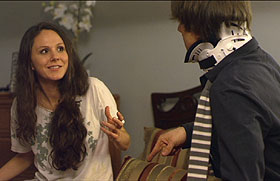 Robert G. Putka's Mouthful and Jared Varava's Tumbleweed! are two short films that have been selected to screen at the 2012 SXSW Film Festival, which will run in Austin, TX on March 9-17.
Mouthful is Putka's second short film, a verbally raunchy comedy starring Eilis Cahill and Conor Casey as a young couple whose relationship becomes strained thanks to an overly frank discussion about their sexual histories. The film was recently reviewed on the Underground Film Journal saying "one shouldn't assume too much how the premise of a young man and woman discussing [male] anatomy will play out."
Putka has also mounted an IndieGoGo campaign to help fund his filmmaking team's trip to SXSW and for marketing material, such as posters, T-shirts, press kits and such. If you want to help out, please visit the Mouthful IndieGoGo page.
Tumbleweed! is the latest collaboration between director Jared Varava and his screenwriting brother Justin. The film is a faux documentary about the only tumbleweed in all of Texas that has never tumbled.
Although not officially reviewed on the Underground Film Journal, we have seen the short and think it's an hilarious and impressively mounted production that hits all the right notes in its fake history lesson.
Mouthful is screening as part of SXSW's Narrative Shorts competitive category, while Tumbleweed! is screening as part of the Texas Shorts section.
The full selection of short films screening at the 2012 SXSW is below. It also includes new animated films by Don Hertzfeldt and Bill Plympton.
NARRATIVE SHORTS
Aaron Burr, Part 2, dir. Dana O'Keefe
Another Bullet Dodged, dir. Landon Zakheim
Bear, dir. Nash Edgerton
The Black Balloon, dir. Benny Safdie, Josh Safdie
The Chair, dir. Grainger David
A Chjána (The Plain), dir. Jonas Carpignano
A Fábrica, dir. Aly Muritiba
Foxes, dir. Lorcan Finnegan
Heimkommen (Coming Home), dir. Micah Magee
In The Pines, dir. Zeek Earl, Chris Caldwell
Joy, dir. Colm Quinn
Liar, dir. Adam Garnet Jones
Life and Freaky Times of Uncle Luke, dir. Jillian Mayer, Lucas Leyva
Little Dad, dir. Noah Pritzker
Mouthful, dir. Robert G. Putka
My Friend Kills Time, dir. Jakob Rørvik
Not Far From the Abattoir, dir. Kyle Thomas
Pitch Black Heist, dir. John Maclean
Playtime (Spielzeit), dir. Lucas Mireles
Random Strangers, dir. Alexis Dos Santos
Reinaldo Arenas, dir. Lucas Leyva
Remains, dir. Jeremiah Zagar, Nathan Caswell
Sea Meadow, dir. Lily Baldwin
Shoot the Freak, dir. Bradford Willingham
A Short Film About Ice Fishing, dir. Jason Shahinfar
Syndromes, dir. The Golden Filter, Kristoffer Borgli
Would You, dir. Brian McGinn, Rod Blackhurst
DOCUMENTARY SHORTS
Aisha's Song, dir. Orlando von Einsiedel
A Brief History of John Baldessari, dir. Henry Joost, Ariel Schulman
BRUTE FORCE, dir. Ben Steinbauer
CatCam, dir. Seth Keal
Cutting Loose, dir. Finlay Pretsell, Adrian McDowall
Family Nightmare, dir. Dustin Guy Defa
The Fuse: or How I Burned Simon Bolivar, dir. Igor Drljaca
Kudzu Vine, dir. Josh Gibson
The Love Competition, dir. Brent Hoff
The Man That Got Away, dir. Trevor Anderson
Meaning of Robots, dir. Matt Lenski
Minor/Major: The TV on the Radio Tour Documentary, dir. Chioke Nassor
New York Accent, dir. Caleb Slain
Written in Ink, dir. Martin Rath
SX GLOBAL SHORTS
Abuelas, dir. Afarin Eghbal
The Contest, dir. Jakub Cuman
Chronicle of Oldrich S., dir. Rudolf Smid
The Contract, dir. Lina Mannheimer
Doctor Rao, dir. Alexej Tchernyi, Wu Zhi
Walt Disney Square, dir. Renata Pinheiro, Sergio Oliveira
ANIMATED SHORTS
663114, dir. unknown
Belly, dir. Julia Pott
Caldera, dir. Evan Viera
Chocolate Milk, dir. Eliza Kinkz
Combustion, dir. Renaud Hallée
Giraffe Danger, dir. Randall Hopkins
The Hunter, dir. Marieka Walsh
"it's such a beautiful day", dir. Don Hertzfeldt
Little Boat, dir. Nelson Boles
The Maker, dir. Christopher Kezelos
(notes on) biology, dir. Danny Madden
Once It Started It Could Not End Otherwise, dir. Kelly Sears
Paint Showers, dir. Miguel Jiron
Photographs, dir. Christina Manrique, Robert Clogher
Reddish Brown and Blueish Green, dir. Samantha Gurry
The Shrine / An Argument, dir. Sean Pecknold
Summer Bummer, dir. Bill Plympton
MIDNIGHT SHORTS
Cheap Extermination, dir. Minka Farthing-Kohl
Cherry On Top, dir. Mike Damanskis
Don't Hug Me I'm Scared, dir. Rebecca Sloan, Joseph Pelling
Duck Sauce, "Big Bad Wolf", dir. Keith Schofield
I Am Your Grandma, dir. Jillian Mayer
J.P.B.F., dir. Steve Collins
Jacuzzi Boys, "Glazin", dir. Lucas Leyva, Jillian Mayer
Machines of the Working Class, dir. James Dastoli, Robert Dastoli
Man & Gun, dir. Brian McOmber
Merman, dir. Jono Foley
Other, dir. Daniel DelPurgatorio
Perished, dir. Aaron McCann, Stefan Androv Radanovich
Zombie Chic, dir. Todd Cobery
MUSIC VIDEOS
Alexander, "A Million Years", dir. Benjamin Kutsko
Baskerville, "Reloaded", dir. Marieke Verbiesen
Battles, "My Machines", dir. DANIELS
Casey Veggies, "Euphoria II", dir. John Bollozos
Céline Desrumaux, "Countdown", dir. Céline Desrumaux
CHRISTEENE, "African Mayonnaise", dir. PJ Raval
Cults, "You Know What I Mean", dir. Kevin Lin
Ganesh Rao, "Empyrean", dir. Ganesh Rao
The Good The Bad, "030", dir. Jeppe Kolstrup
Gotye (Feat. Kimbra), "Somebody That I Used To Know", dir. Natasha Pincus
Hawaaii, "Welcome", dir. Churl Gwon
Herman Dune, "Tell Me Something I Don't Know", dir. Toben Seymour
Hooray For Earth, "True Loves", dir. Young Replicant
Hyperpotamus, "De Camino", dir. Lucas Borras
Kina Grannis,"In Your Arms", dir. Greg Jardin
Little Tybee, "Boxcar Fair", dir. Brock Scott, Tom Haney
Ok Go, "All Is Not Lost", dir. Ok Go, Pilobolus, & Trish Sie
Porter Robinson, "Spitfire", dir. Saman Keshavarz
Son of Kick,"Playing the Villain", dir. Matt Devine (Glues Society)
When Saints Go Machine, "Parix", dir. Daniel Kragh-Jacobsen
Whomadewho, "Every Minute Alone", dir. William Stahl
Yip Deceiver, "Get Strict", dir. Brandon LaGanke, John Carlucci
Yuksek, "ALWAYS ON THE RUN", dir. David Hache, Marc-Edouard Leon
TEXAS SHORTS
foolproof, dir. Zach Anner, Marshall Rimmer
The Gathering Squall, dir. Hannah Fidell
The Guessing Game, dir. Angela Cheng
Hellion, dir. Kat Candler
Knife, dir. James M. Johnston
Magpie, dir. Russell O. Buh
Spark, dir. Annie Silverstein
Tumbleweed!, dir. Jared Varava
What It's Like, dir. Matt Naylor
TEXAS HIGH SCHOOL SHORTS
The Apparition, dir. Jonathan Munoz
The Bench, dir. Kalen Doyle, Hirsh Elhence
The Bench, dir. Christian Benavides
Boom, dir. Daniel Matyas, Brian Broder
Burn Spark, dir. Maqui Gaona, J.J. Rubin
Chance, dir. Jasmine DePucci
Code Red, dir. Zach Prengler
Drawings, dir. Christian Larrave, Alex McKenna
Drones, dir. Micah Autry
Drum Roll Please, dir. Alexander Villanueva
Janitor's Laundry, dir. Brian Broder
Josh Lumsden, "Guilty", dir. Josh Lumsden
Julian Edmonson: Who I Am, dir. Jake Wangner
Knit-Picky, dir. Bobby Jorgenson
Language, dir. Leah Schell
Masterpiece, dir. Anele Page
McChange: A Manifesto, dir. Jonathan Griffin, Josiah Sandhu
Plasticine Dream, dir. Samantha Fine, Andrew Fields
The Process, dir. Ty Whittington
The Proposal, dir. Marcella Jimenez, Susannah Rodrigue
Safe, dir. Pierce Harvell
Silent Night, dir. James Bradford
Zwichensug, dir. Cole Martin, Josh Willis