Mike Plante: Zines Rule!
Do they still make print zines anymore? Hell to the yes! Former film zine publisher Mike Plante (Cinemad) interviews current punk rock zine publisher Todd Taylor (Razorcake) for the documentary Getting the Mag, which chronicles Taylor picking up the print run of the latest issue of Razorcake from the printer. It's good to see that print isn't entirely dead. Above is Part One. Below is Part Two.
For those involved in the '90s and '00s zine movement, it's pretty much assumed that the majority of publishers from those days dropped print for the Internet. Heck, Plante himself did that with Cinemad. Or is that common wisdom actually a misperceived notion?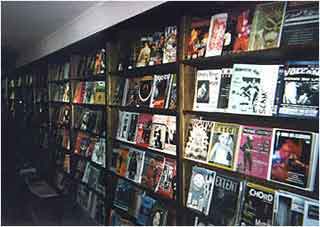 Zines used to be a big part of my own life. When I lived in NYC in the early '00s, one of my favorite activities was to trek over to the See Hear zine store in the East Village and pick up whatever weirdness I could find. I'm assuming the store is still in business and a picture like the one on the left there from inside the store still makes me drool.
But, I don't read any zines today and don't know what the field looks like these days. But, I've always admired the committed work ethic that people like Taylor displays in this documentary, a committed work ethic towards something outside the mainstream and on the fringe of culture without large financial reward. Hmmm, what does that sound like?
I hope there are still lots of zine publishers out there like Taylor. The world needs 'em!