Michael Galinsky Named 2012 Guggenheim Fellow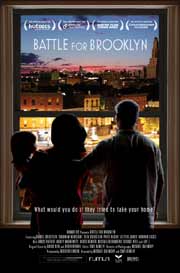 Filmmaker Michael Galinsky has been named one of thirteen Guggenheim Fellows in film and video for 2012.
For the past 88 years, the John Simon Guggenheim Memorial Foundation has awarded fellowships to scholars, artists, and scientists in a variety of different disciplines in the creative arts, humanities, natural and social sciences. Out of nearly 3,000 applicants in 2012, 181 fellows were chosen.
Galinsky's most recent film was the documentary Battle for Brooklyn, which he co-directed with Suki Hawley. Seven years in the making, the doc focused on the struggles of a group of Brooklyn residents to prevent their homes from being demolished by an aggressive developer hoping to build a new sports complex with the help of a compliant city government.
Battle for Brooklyn was named runner-up for the Underground Film Journal's Movie of the Year for 2011.
Galinsky is also one-third of Rumur, a multimedia production studio and distributor that he runs with Hawley and their partner David Bellinson. The Guggenheim Fellowship grant will be going towards Rumur's latest project, Conception, a film "which explores the nature (and nurture) of family." However, they are also working on another film concurrently entitled Story of Pain, a documentary on Dr. John E. Sarno and modern conceptions on pain.
For more on Galinsky, Rumur and their other previous films, such as the George W. Bush documentary Horns and Halos and the cult indie music film Half-Cocked, please visit the official Rumur website.
All the Guggenheim Fellows in film and video for 2012 are:
Lucien Castaing-Taylor
Lisa Crafts
Cherien Dabis
Shimon Dotan
Eric Dyer
Alice Elliott
Charles Fairbanks
Michael Galinsky
Jane Gillooly
Stanya Kahn
John Jota Leaños
Wura-Natasha Ogunji
Yoruba Richen