Martha Colburn Animates Philadelphia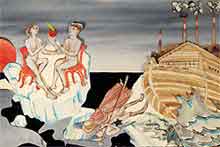 For those of you in the Philadelphia area, on July 18 at 5:30 p.m., veteran underground animator Martha Colburn will be speaking at the Rosenbach Museum about her film installation Don't Kill the Weatherman!, which is currently playing there now through Sept. 16. I haven't seen the film, nor any clips from it, but Martha makes some amazing films, so I highly recommend going to check this out. Sounds like a real treat. The Rosenbach's website describes the film as:
Martha Colburn creates a complex and surreal journey into a world at once medieval, contemporary and prophetic. The film combines images from the illuminations of Three Pilgrimages by Guillaume de Deguileville with an invented world of climate catastrophes and investigations into morality and spirituality made visible through her unique animated technique.
For more info, please visit the Rosenbach's official site. And to get more Martha, she has an official site, too.