Movie Review: Lunchfilm At AFI Fest 2009
"That's the problem with calling something 'Lunchfilm.' You always get an afternoon slot."
That was Lunchfilm curator Mike Plante quipping before his 1:00 p.m. screening on Nov. 2 at the 2009 AFI Film Festival in Hollywood. Hell, I'm a matinee kind of guy so I happened to be thrilled, even with having already seen half of the program back in May of this year. There were promises of some new short films and extended versions of old ones, but some of the repeats are just too good to pass up when they're re-screened.
Here's the quick rundown for the uninitiated: Mike Plante — journalist, festival programmer — buys lunch for a filmmaker, who then promises to make a film for Mike for the same amount as the lunch. This works out excellently for two reasons. One: Filmmakers always need money and inspiration. Two: Mike knows a helluva lot of supremely talented filmmakers. The results are a fascinatingly eclectic bunch.
There are fictional narratives, documentaries, experimental films, unique hybrids and some just really oddball art pieces. At this particular event, 13 films from the Lunchfilm collection — I think Mike has said there's around 50 total — were screened. No lineup was printed in the AFI guide, nor were any filmmaker names mentioned beforehand. (I only knew about some of the new ones through insider information.) And I think that's the way it should be. Just a total blast of the unknown for 90 minutes, jumping from one style to the next, never knowing what you're going to be either assaulted or soothed by.
As I said above, I already saw a good portion of the films at a previous screening.
But here were the 13 courses we were served this time out:
1. We began with Nicholas McCarthy's Chinese Box, a fictional narrative that I enjoyed the first time around, but this time I was thoroughly blown away by just how loudly the subtle nuances speak here. This is a two-character piece and from the instant we lay eyes on these two, we get the picture: A perpetually down-on-his-luck kind of guy is hoping to hook back up with the girl who got away. If he can't get that, he'll settle for some cash. And there's no way in hell he's going to get her again. Fantastic script, great acting, and one totally bizarre story.
2. Jean, directed by Kelly Sears, uses text appropriated from somewhere and photos to recount the suicide of French actress Jean Seberg. But beneath the floating words and pictures are old religious drawings that call to mind Sebring's first film role: Joan of Arc in Otto Preminger's Saint Joan. Really smart and pretty and dreamy how Sears ties it all together.
3. The Call is a split documentary between David Fenster and David Nordstrom. This was one of my favorites from my first Lunchfilm screening and my admiration is not diminished the second time around. Somehow, a rancher's whole life is summed up in making sourdough biscuits, a tiny graveyard is found buried in a stone wall and an odd dream is recalled that makes a man start to believe in the supernatural. It all joins together for an otherworldly experience, with the biscuit-making being grounded in the ultra-real and the others from some other realm.
4. Goldthwait Home Movies is Bobcat Goldthwait's hilarious fake commentary on his real, old home movies with comedians Tom Kenney and Jill Talley pretending to be his siblings. The jokes are just as good the second time around.
5. Clear Glasses by documentarian Sam Green is also just as wildly entertaining the second time around. The film documents the importance of an obscure object of history, Weather Underground member Mark Rudd's fake glasses. The story of the glasses is related via voiceover from Sam and Mark, with a really cool visual effect of old nighttime news footage unspooling as a series of photocopies. The effects were done by Eric Escobar of kontent films. I made sure to note his name during the end credits to give him a shout-out this time.
6. Filmmaker and photographer Sarah Soquel Morhaim goes boy crazy for her short All Day All Night. A woman puts on a sleep mask while faceless men pose, dress and undress for the camera while old movie music and dialogue plays on the soundtrack. I also like the static shots of empty beds and bedroom furniture that imply that the woman is trying to remember all the places she's made love to these faceless guys. Or, thinking about the places she wants to. You can actually watch this one on Sarah's website.
7. Letters Real, Names Not by Azazel Jacobs makes one wonder if the title is a put on or not. A mother corresponds via email with a rock star who wants to date her daughter. The rock star responds that he only has honorable intentions when he wants to fly said daughter to some event with him. The rock star assures mom that he can bag any chick he wants, so he wouldn't go through all this rigamarole just to sleep with her daughter. He just really likes this girl. Mom confesses she once dated Bill Wyman, but couldn't see herself eventually becoming "that" kind of wife. Will mom let daughter go? A very nice, fun back-and-forth between mom and rock star is casually entertaining while also really keeping the suspense up through the whole film.
8. Friends, directed by James Graham. What would it be like to be your friend? Would it be awesome, like winning the lottery? Or would it totally suck? Actually, the funniest part about this film is the way its sole actor addresses the camera directly. So, it's not really what would it be like to be friends with somebody else, it's what it's like to be friends with you, the viewer. After watching this, I felt like a really bad person. But, I feel like that most days anyway.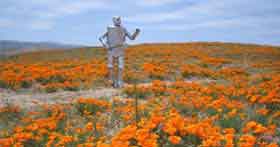 9. Weird Carolers is a typically sad, creepy stop-motion animated film from Brent Green. "Typically" for Green actually means the film is extraordinary. The film tells the story of the composer Beethoven as narrated by Green in his nervous, shaky voice. The figures in Green's films always look like they're immobilized in a state of decay. Beethoven is no exception as he thrashes about his apartment, breaking the furniture and mirrors hanging on the wall to feel the vibrations when they smash so that he can recreate that feeling in music. Of course, all the smashy-smashy drives his downstairs neighbor, a single woman, completely insane. The lesson: To make great art, one must first create terror. (Watch this underground movie online)
10. Home Movie by Braden King is just as emotionally devastating the second time around. It appears to be a fictional film about a woman trying to explain divorce to her two young boys. But there are moments when the children, who are clearly not actors, break the fourth wall and spot "daddy," who's allegedly absent holding the camera filming the entire tableaux. Very real and claustrophobic film.
11. Like the first time I saw it, Tin Woodman's Home Movie #2 is probably my favorite film of the bunch. Co-directed by Lee Lynch and Naomi Uman, a man dressed as the Wizard of Oz character stands in a field of flowers that look like Oz's poppy field while passers-by stop and have their picture taken with him — and the Tin Wood-dog. The action is slowed-down considerably while the similarly slowed-down refrain of "If I Only Had a Heart" grinds away on the soundtrack. One eerie, haunting, mesmerizing film.
12. Randy Walker sent Mike a longer version of Whiskeypriest than I had seen at the previous Lunchfilm screening. The additions make for a more successful, more memorable film, even though it was pretty entertaining at the shorter length. However, now, a more laconic pace acts to heighten the intense parts. The most intense being a mellow middle-aged dude going on a blind date with a hyper-aggressive real estate agent. Roxy will only go on the date in the white stretch limo she bought off of eBay and her idea of a good time is showing off all of her different smiles. There's also a tale about a blues singer practicing and trying to find gigs; and another one about two latchkey tween girls trying to amuse themselves. And the film does feel like Walker could keep adding material to the film to lengthen it out into a feature, which I would totally dig seeing someday.
13. And, lastly, Tom Brandt's Offshore Bank is an absurdist comedy featuring film financing frauds, sting operations and insulting cologne ads. It's a bizarro cocktail, but Brandt shakes it all up into one freaky, tripped-out experience. And those eyes. Those eyes! (See above.)
Visit the official Lunchfilm site for more info on the project.