Movie Review: Lunchfilm: An Appreciation
Here's the premise behind the Lunchfilm project: Film journalist Mike Plante, of Cinemad fame, buys a flmmaker lunch and in return the filmmaker makes a short film for Plante, the cost of which is equal to the cost of the lunch. Also, over the meal, the two hash out details of certain elements that need to be included in the film.
Ever since I heard of Plante's Lunchfilm project years ago, I've been dying to see some of them, particularly since Plante was commissioning work from some of my personal favorite filmmakers. Back on Saturday, May 16 at the Echo Park Film Center, I finally got the opportunity when Plante presented several films from the project. Of course, considering he's commissioned over 50 films at this point — and has currently reached his cut-off point — it would be difficult to sit in a screening of all of the Lunchfilms, but even sitting through a brief selection is an amazing treat.
Going into the screening, I was most excited to see films by filmmakers who's work I'm already a fan of, such as animator Martha Colburn, and filmmakers whose names I type out a lot on the Underground Film Journal in film festival lineups, but haven't had a chance to see their films yet, such as Ben Russell and Sam Green. Those films ended up being very exciting to watch. However, what was even better was being blown away by filmmakers whose work I am completely unfamiliar with.
Out of that last group, I was particularly taken with a split documentary by David Fenster and David Nordstrom: The Call. The film has a couple of puzzling and diverse stories about hidden revelations that alternate back-and-forth in their telling. One half of the film documents a man living in a trailer in what appears to be literally the middle of nowhere where he shows off his technique for making biscuits. It's a very rustic procedure, which turns out what looks to be absolutely fabulous biscuits. The other half of the film is actually unclear if it's even a documentary at all. A voice-over narrator tells us a story about being shown a tiny cemetery embedded in a stone wall. Then, just when you think the story is utter b-s — Well, that's a spoiler. But, I really like films like this: Low-key and presented very matter-of-factly where the connections aren't clear until ruminating on them afterward.
The other real standouts from filmmakers I'm unfamiliar with are: Nicholas McCarthy's Chinese Box, an exceptionally well-acted piece about a man trying to convince a woman he has a crush on that he owns a talking, quasi-fortune telling box. Is he just a con artist trying to take advantage of a mark or is something more sincere going on? The crazy story is revealed so earnestly that it really enhances the nuances of trying to figure out what's truly going on.
Also, Ricardo Rivera's Tung goes by really quick — it's only about a minute — but the stylishness of the film combined with revolting special effects involving what looks like real tongues, really sticks with you. Plus, I also really enjoyed Mike Gibisser's Springtime Wound Motor, which appears to be a simple exercise of Gibisser playing around with a camera run by the film's title. Gibisser captures just quick bursts of an interview with an elderly woman who remains amazingly patient while the filmmaker has to continually keep winding the camera. A very simple and charming film.
Now, as for filmmakers whose names I'm familiar with, but their work not so much, I was thrilled to finally see a film by Ben Russell, and one in his amazingly successful "Trypps" series. This one he has named Trypps #6 (Malobi), but when the film started I didn't know that. And if you don't know that, it's an incredibly mysterious film where you don't even know the location in which the events are taking place.
The main "character," so to speak, is a young dark-skinned man who wears a Halloween shock mask with flaming orange hair and a bright orange jumpsuit — not quite like an American prisoner might wear, but close. The entire film unfolds in one take where this masked man walks through a poor village of small huts along with a whole gang of similarly masked people whereupon they finally hook up with some kind of festival. There is music and dancing and eating and just a good time being had by all. The masked people, in time with the music, then put on a dance performance that's a little violent, a little scary and, at some parts, extremely sexual. The festival, the wearing of the masks, the ritual, the location — none of this is ever explained. It's a real cinema verite anthropological film that raises many questions about a culture than it does explaining it.
Sam Green's Clear Glasses is an equally remarkable documentary somewhat based on his most popular film, The Weather Underground. While I haven't seen The Weather Underground, that didn't diminish my appreciation for Clear Glasses. The Lunchfilm tells the story of one of the Underground's members giving Green the dorky clear plastic glasses he wore when he re-emerged from hiding and went on trial. The film is done in a really exuberantly visual way mostly through animated photocopies, which gives it an overall fun, bouncy feel. Plus, it's an incredibly interesting investigation into a seemingly innocuous object that we learn has bold, historical connotations behind it.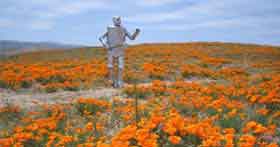 I was also really taken with Naomi Uman and Lee Lynch's Tin Woodman's Home Movie #2. It's a fairly simple film done entirely in slow-motion: Tourists drive up to and take pictures with a man dressed as the Tin Woodman standing in a field of flowers resembling the poppy field from The Wizard of Oz. Why this dude is dressed like this, where he's standing and how these people find him, I have no answers, which makes this a really haunting and disturbing film.
Next, the filmmaker whose short I was especially excited to see was Martha Colburn, whose commissioned film is Myth Labs, a rapid fire animated film conflating the early settlement of North America with the current meth epidemic in this country. Like many of Martha's current films, Myth Labs is a film that probably takes a lot of viewings to appreciate all the elements that are working together. It's a dizzying, swirling concoction of realistic and fantastic elements. She takes bits and pieces from history and the modern world, spins it up in a blender and spits it out in front of a high-powered fan. Myth Labs is a visual and intellectual assault and battery.
Lastly, there were lots of other great films included in the mix: Braden King's emotional whallop Home Movie, about a young woman trying to explain divorce to her two young sons; Bobcat Goldthwait's knee-slappingly hilarious Goldthwait Family Home Movies (Anniversary Edition), a faux DVD bonus feature commentary set to actual Goldthwait home movies; Jim Finn's repurposing of his North Korean feature The Juche Idea; Tom Barndt's funny Offshore Bank; and others by Sarah Soquel Morhaim, Kelly Sears and more.
So, if Mike Plante is coming to your town with some Lunchfilms packed under his arm, it's a screening event not to be missed for it's diverse pleasures, whether it includes all the films listed above or different ones. Going to see a particular film is fine, but it's really the element of surprise where the real joy lies. But what's most exhilarating about this project is the sheer love of the short film medium, which typically doesn't get the popular respect it deserves and which Lunchfilm proves it should.