Light Industry: A Tribute To Bruce Conner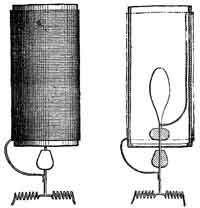 Before I get to the lineup for this month's Tuesday night screenings in Brooklyn for Light Industry, a little note:
Two weekends ago, I had the awesome pleasure of hanging out with one half of the Light Industry team, Ed Halter. He was in L.A. to give a talk with superstar documentarian Jeff Krulik about Jeff's classic underground film Heavy Metal Parking Lot and the state of public access tv in 1986. (Jeff ran his local access channel back then and shot the film with the station's equipment.)
It was a fun, informal lecture. Jeff really is one of the world's great storytellers. Ed would ask a question, then Jeff would go off with a ton of fascinating and hilarious anecdotes. Then, afterwards we, my wife and a whole passel of folks had drinks and a nice Italian dinner nearby. It was a really great night and after years of corresponding with Ed via email, it was nice to finally meet in person and talk about "the biz" of underground film. Now, I'm a doofus and didn't snap any pictures even after remembering to bring my wife's camera, but on Ed's blog he has a write-up on the event and a pic of him and Jeff.
Now, here are October's Light Industry events listed below. Ed told me that Light Industry is doing fantastic and drawing really big crowds. There's always something interesting going on there, but this month's lineup sounds particularly like heaven to me, for real:
Oct. 7
8:00 p.m.: Come Softly – "Be Continuous Often" curated by Mark McElhatten
McElhatten, the programmer for the "Views From the Avant-Garde" section of the New York Film Festival, will be showing films by Stom Sogo, Luther Price, Miranda Raimondi, Julie Murray, Scott Stark, Phil Solomon, Lewis Klahr, and others with several world premieres and surprises.
Oct. 14
8:00 p.m.: Crossroads: A Tribute to Bruce Conner
In honor of the legendary filmmaker who recently passed away on July 7, several filmmakers will be screening work inspired by or in tribute to him. The lineup is a virtual who's who of the current underground scene. Showing work are: Peggy Ahwesh, Animal Charm, Craig Baldwin, Stephanie Barber, Dara Birnbaum, Roger Beebe, John Michael Boling, Bryan Boyce, Martha Colburn, Bradley Eros, Kevin Jerome Everson, Ernie Gehr, Michael Gitlin and Jacqueline Goss, Ken Jacobs, Kent Lambert, Oliver Laric, Jeanne Liotta, Eileen Maxson, Jenny Perlin, Luther Price, Michael Robinson, Keith Sanborn, Sylvia Schedelbauer, Deborah Stratman and Aaron Valdez.
Oct. 21
8:00 p.m.: Genre Trouble curated by Su Friedrich
Friedrich will be screening avant-garde films by genre. These genres include: "the single-shot film, the film that combines strict formalism with direct political content (n.b.: someone will win a prize at the screening for coining a name for that one), the documentary, the purely visual, the primarily text-based, the animated, the sexy, the found footage, the led-by-narration, and maybe even the silly." Some of the filmmakers included are Peggy Ahwesh, Diane Bonder, David Ellsworth, Kyle Kibbe, Mara Mattuschka, J.J. Murphy, Ursula Puerrer, John Smith, and Peter Thompson.
Oct. 28
8:00 p.m.: Far From Vietnam, dirs. Jean-Luc Godard, Joris Ivens, William Klein, Claude Lelouch, Chris Marker, Alain Resnais, Agnes Varda.
This 1967 film features several fictional and documentary segments protesting the Vietnam war.
Oct. 31
8:00 p.m.: "It's Always Halloween" curated by Jacob Ciocci
Special Halloween night event! Ciocci will present 20 minutes of original work, plus his new video performance piece I Let My Nightmares Go.
For more info, please visit Light Industry's official site. They are located at:
Industry City
55 33rd Street (between 2nd and 3rd Avenue), 3rd Floor
Brooklyn, New York