Light Industry: People Are Strange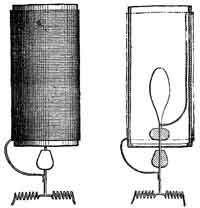 Here are the events scheduled for July at Ed Halter and Thomas Beard's Brooklyn, NY screening space, Light Industry, which has fast become one of the premiere avant-garde salons in the country. With those two guys at the helm, how could it not be?
Actually, this is only the calendar for the first half of the month. If I get info for the second half, I'll post them up at another time. However, since July is nearly upon us, I thought I'd throw this up now. Screenings take place every Tuesday night at 8 p.m. and this month we get a mix of politically-themed films, live poetry and music performances as well as a night of video games.
July 1
8:00 p.m.: "Half of the People Are Stoned and the Other Half Are Waiting for the Next Election"
Curator Nick Hallett presents a night of political activist videos from 2004. With a presidential election in full swing this year, take a look back at what the state of politics was like just four short years ago. Back then it was a banner year for activists, especially when the RNC decided to hold their convention in NYC. Some of the filmmakers represented tonight will be: Cory Arcangel/Jonah Peretti, Carbon Defense League, Imaginary Company, Institute for Applied Autonomy, Ryan Junell, Saul Levine, Jen Liu, Taylor Mac, Laura Parnes, Pink Bloque, Wynne Greenwood, Julie Atlas Muz, Seth Price, Guy Richards Smit/John Pilson/Lou Fernandez, Suicide, Tigger, Aaron Valdez and the Yes Men.
July 8
8:00 p.m.: "People Are Strange (When You're a Stranger)"
Tonight's event is based around the release of Marisa Olson's new artist book, Poems I Wrote While Listening to the Doors, 1992-1994 (Before I found the internet). Some of Olson's live video projections and music videos will be screened, plus excerpts from the book will be read by different poets, including Thom Donovan, Stephanie Gray, Christian Hawkey and Dorothea Laskey. Other portions of the book will be performed as songs by members of the bands Professor Murder, Aa and Taigaa.
July 15
8:00 p.m.: "Games by Mark Essen"
Essen is a video game artist who will give a brief talk about the games he designs. Then, audience members will have the chance to play several of them, such as Randy Balma: Municipal Abortionist (2008), Punishment: The Punishing (2007) and Flywrench (2007). There will also be a live performance by Jordan Stone, who has provided experimental soundtracks to Essen's games.
For more info, please visit the Light Industry website.