Light Industry: Five Films By Joyce Wieland
Jan. 6
7:30 p.m.
Light Industry
220 36th Street (between 2nd and 3rd Avenue), 5th Floor
Brooklyn, NY
Hosted by: Light Industry
Joyce Wieland (1931 — 1998) was a Canadian painter who moved to NYC in the 1960s and became a part of the then blossoming structuralist movement within the underground film scene. She primarily made films by herself, but did collaborate with both Hollis Frampton and her husband Michael Snow.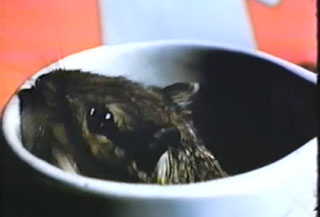 The five films screening in this program have been curated by Emily Roysdon and span Wieland's career from her first film to her last. A listing of the films screenings is below. Roysdon says of Wieland's work: "[It] evinces a sharp wit and inventive narrative sense that foreshadows the small-gauge cinema of the 1980s and 90s."
List of films screening:
Handtinting (16mm, 1967, 6 mins.)
Rat Life and Diet in North America (16mm, 1968, 16 mins.)
Pierre Vallieres (16mm, 1972, 30 mins.)
Solidarity (16mm, 1973, 10 mins.)
A & B in Ontario (made with Hollis Frampton, 16mm, 1984, 16 mins.