Light Industry: Content Producer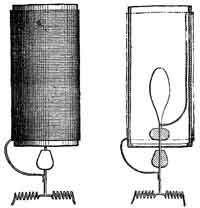 Ah, the dog days of summer are upon us and to get us through them you'll need a glockenspiel, Christian bloopers, furry animals and some gay porn. Witness these spectacle at Brooklyn's Light Industry screening space run by Ed Halter and Thomas Beard. All shows start at 8:00 p.m.:
August 5
8:00 p.m.: "Content Producer presented by Cory Arcangel"
The best part of this special event isn't that Cory Arcangel will play his entire self-composed glockenspiel accompaniment to Bruce Springsteen's album Born to Run. The best part is that Arcangel has never performed this before in front of a live audience. So, go see how badly he screws up. There will also be a surprise video accompaniment to the performance, as well.
August 12
8:00 p.m.: "PUBLIC OPINION LABORATORY presents:"
On this night there will be two separate presentations by Andrew Lampert. The first one, All Magic Sands: Reels 1 + 2, is done in conjunction with Alan Licht where the duo will screen two reels of a found, unfinished Christian children's adventure film, including outtakes, mistakes and retakes, in a large jumbled crazyquilt. Christian film hasn't taken punishment like this since Kenneth Anger threw Jesus footage he found into Scorpio Rising. Then, Lampert presents his Our Dream Deferred, a solo work-in-progress that involves "moving images and lasting regrets."
August 19
8:00 p.m.: "ANIMANIMAL/MAMMAL/MANIMAL curated by Brel Froebe and Benjamin Schultz-Figueroa"
All you need to know is this: "Expect (perhaps) live chickens, animal sounds karaoke, rock and roll, furry wrestling, and more."
August 26
8:00 p.m.: "Two Films by Fred Halsted presented by William E. Jones"
L.A. Plays Itself, dir. Fred Halsted, was made way back in 1972 and is considered a gay porn classic in its depiction of the pretty boys of Malibu and the street hustlers of Hollywood Blvd. Preceding this reconstructed version of Halstead's feature-length film will be Halstead's short Sex Garage, which you can kinda figure out what that's about from the title, but it does feature bisexual porn.
For more info, please visit Light Industry's official site.