Los Angeles: Views From The Apocalypse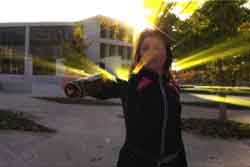 The real underground has finally come to Hollywood! This is a late notice screening I just received from curator Noel Lawrence. It's taking place at the new Engine Theater, located at 1636 Wilcox Ave., and will begin at 8:00 p.m. The event is described by Lawrence thusly:
"Views from The Apocalypse" surveys recent cinematic work on the very probable, very dystopian near-future. Alternatively ominous and hilarious, these auteur-prophets sound a clarion call against all Brave New World Big Brother BS!
This is a great lineup of works from legendary filmmakers George Kuchar and J.X. Williams, plus Damon Packard's brilliant new SpaceDisco One, which I reviewed here, and more.
Lawrence used to run the mighty Other Cinema DVD distribution; and he's currently in charge of the J.X. Williams Archives. So, this is a dude who knows his underground film. Lawrence has recently relocated to Los Angeles, so lets hope this is the beginning of many more shows right in the heart of show business.
Here's the lineup:
Part 1
8:00 p.m.:
Cattle Mutilations, dir. George Kuchar
Dot, dir. Dan Carbone
Part 2
9:00 p.m.:
Sex Crimes of the 21st Century, dir. J.X. Williams
SpaceDisco One, dir. Damon Packard. In the near distant future of 1984, Winston Smith escapes from his prison-like existence to meet the daughter of Logan from Logan's Run. (Watch this streaming underground movie online)
Part 3
10:00 p.m.:
Salia, dir. Julia Ostertag. An abandoned high-rise in East Berlin is transformed into its own little alternate universe where the world outside is quickly collapsing into anarchy and the inside ain't much better. (Read the underground movie review)
Views From The Apocalypse
8:00 p.m.
The Engine Theater
1636 Wilcox Ave., Los Angeles