Kurt Cobain's Journals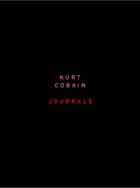 This book came out a few years ago, so I wouldn't normally be inclined to "review" it. But I only recently received it (as a gift) and I was struck by something I want to comment on.
I wasn't so sure I'd be able to read it entirely through. It seemed like a nice coffee table type book I would just flip through, checking out pages here and there. The packaging and design of the book are superb with amazingly clear and detailed scans of pages in notebooks and random pieces of paper collected from here and there. However, the content I assumed would be barely interesting, juvenile ramblings. But, it's not. It's actually extremely fascinating, semi-juvenile ramblings.
Buried in boxes around my apartment, I also have notebooks filled with both teen and young adult angst, railing against the phoniness of "Corporate America" and how true artistic types are not appreciated enough. So, I could really relate to Kurt's musings on similar topics. But here's the problem: One of Kurt's later entries is about the theft of several of his personal notebooks. This is his message to the thieves:
The most violating thing I've felt this year is not the media exaggerations or the catty gosip, but the rape of my personal thoughts. I feel compelled to say fuck you. Fuck you to those of you who have absolutely no regard for me as a person. You have raped me harder than you'll ever know. So again I say fuck you although this phrase has totally lost it's meaning: Fuck you! Fuck you!
If that's how intensely he felt about strangers possessing his work while he was alive, I have to wonder if he would have approved of this book's publication. I don't think I would appreciate it if my private journals ever got out. Granted I'd be dead and probably wouldn't care anymore at that point, but I don't like the idea of it while I'm alive.
So, while I thoroughly enjoyed reading this, I feel a little guilty that I did.
Buy this book on Amazon.com!
Kurt Cobain, Nirvana