Kino International's Underground Connections
Theatrical distributor Kino International has two upcoming releases of note:
1) Psychopathia Sexualis: Recently won the Director's Choice Feature Award at the Boston Underground Film Festival. The movie will be playing at the Two Boots Pioneer Theater in NYC June 8-21 (probably my second favorite theater in NYC after the Anthology Film Archives). The film also opens in select cities across the country in June. Full listings here.
The film is an adaptation of the medical textbook "Psychopathia Sexualis" written by Richard von Krafft-Ebbing.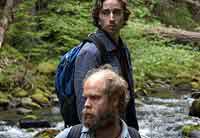 2) Old Joy: Hot off of the PDX Film Festival, and a bunch of other smaller fests like Sundance and SXSW, Kino has just acquired this highly praised film about two friends hiking in the woods. No release dates set yet, but hopefully soon. Lots of good buzz around this one.