Movie Review: Kill Your Idols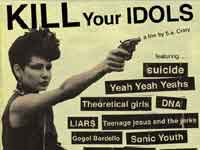 I'm not sure who said or where or when I first heard the adage: "Everything in the underground becomes mainstream in 5 to 10 years." But ever since I heard it — sometime around film school in the early '90s, I believe — I've kept it in mind and have seen it become so several times. Here's an example of how it works:
"No Wave" band DNA begets noise band Sonic Youth begets grunge legend Nirvana begets ten million shitty bands who still wish they were Nirvana.
I had heard of the NYC "No Wave" scene of the late '70s, but I didn't know much about it so I was quite anxious to check out S.A. Crary's Kill Your Idols. The actual scene was an extremely brief period of music (something like 8 to 18 months) practiced by only a handful of bands, most of whom are interviewed in the film. It was sort of a response to the punk scene built up around The Ramones that eschewed the bluesy chord structures that defined punk. "No Wave" didn't rely on chords and produced an unholy cacophony of noise that even the punks rejected.
It's interesting to hear in the film how the No Wave "scene" developed, in that a bunch of different bands with no contact with each other suddenly discovered that they were all doing the same thing. It reminded me of the story of a young Andy Warhol walking into a gallery and seeing early Roy Lichtenstein comic panels and saying, "Hey, I'm doing comic book panels, too!" (This was before the soup can phenomenon.) How does something so random like that happen?
The cool thing about "No Wave," other than the music, is that the bands into it were heavily into other art forms, including film and video. So while "No Wave" didn't last very long, there's quite a bit of live performance footage, which Crary includes in the film so we really get to see and hear what the fuss was all about rather than just a bunch of talking heads discussing it and made up "after-the-fact" videos. Kill Your Idols also includes some early B&W films by underground filmmaker Richard Kern, as well as a clip of a young Lydia Lunch from the legendary punk doc Punking Out.
However, the problem with the "No Wave" scene flaming out so quickly is that once you get the basic idea of who the bands are and what they did, that doesn't really warrant a feature-length documentary treatment. To fill out the film, director Crary interviews several modern New York bands who may be somewhat influenced by "No Wave" music, but are really students of Sonic Youth rather than No Wavers like Teenage Jesus & The Jerks.
While seeing the long-lasting impression "No Wave" had on NYC music is crucial for a doc like Kill Your Idols, the film tends to focus too much on the modern era than on the past. Rather than a nice epilogue or coda, modern bands such as the Liars, Gogol Bordello and the Yeah Yeah Yeahs occupy the entire second half of the movie. At a certain point I started wondering if Crary was really into the "No Wave" music at all and was really just a fan of the modern bands and trying to get them screen time. Karen O of the Yeah Yeah Yeahs is interviewed in the film so much it seems like she's in there just as a calculated move to sell the film since she's the only real "name" in the movie. And nothing against Karen — I do like the Yeah Yeah Yeah's first album — but if Crary cut out all of her "Like, you know"s the movie would probably be about 20 minutes shorter.
The other problem with Kill Your Idols is that the movie completely skips over the NYC music scene from early 1980s Sonic Youth to early 2000s Yeah Yeah Yeahs, as if nothing happened in the '90s. Maybe the NYC music scene did suffer during that decade, but something must have been going on. Actually, one of my favorite bands, Poem Rocket, came out of that period.
Plus, while I enjoyed the music of the modern bands — most of whom I never heard before — they just didn't give the same quality of interview as the older rockers. Again, not to pick on Karen O, but while she talks about crafting her band's image before even recording a song, Lydia Lunch is delightfully cranky and gives the smackdown on the younger bands who, that's right, care more about their image than making music. The older musicans in the film, including Lunch, Moore, Glenn Branca, Michael Gira and Jim Thirlwell, talk about art and politics, while the new bands talk about "just playing music." Granted, the new bands are currently fighting for their careers and the older bands have and have had theirs, it's still a stark contrast between bands who seemed to have believed in something and new bands who we're not sure what they believe in.
Kill Your Idols is still an interesting documentary about a little known chapter in the history of music, so it's nice that somebody spent any time at all covering it as Crary has.