Filmmaker Kent Lambert With Mochi And Asha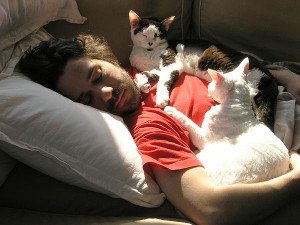 Kent Lambert says:
I would like to submit several photos of my cat Mochi and me, and one of Mochi and his "sister" Asha sitting on me sleeping. I am very tight with both of them, but Mochi and I are especially close pals — my song "August Song" (trippy cat-heavy video by Jodie Mack and Emily Kuehn can be viewed in HD here) — is somewhat of an ode to him.
You can choose your favorite of the photos I submit, I'm having trouble picking just one!
Underground Film Journal says:
We had to go with the "family" photo as our favorite above, but two bonus photos of Kent and Mochi are below. Their close bond is quite amazingly evident!
We've been über-fans of Kent Lambert's phenomenal media remixes all the way back when his hilarious Whack, featuring actor Philip Michael Thomas, screened at the 2001 New York Underground Film Festival.
Ever since then, Lambert has been honing his craft and pushing the artistic limits of media remixing with each new project. His latest, RECKONING 3, which continues his brilliant "pop culture and video games" franchise, was recently awarded the Best Experimental Film at the Chicago Underground Film Festival for its complex commentary on the male image in gaming culture.
In a somewhat similar vein, we also recommend viewing Lambert's homage to modern male love in Fantasy Suite, as well as his dark and disturbing Hymn of Reckoning.
More Cats: View our entire gallery of Filmmakers and Their Cats!
Submit: If you're a filmmaker and you love your cat companion, please send us a photo of you with your kitty.
Bonus photos of Kent Lambert and Mochi: