Jon Clark: "Video Challenge" By Anamanaguchi
Here's a music video that's guaranteed to have you slipping on your happy feet. Guaranteed, I say! The song is "Video Challenge" by 8-bit powerpop band Anamanaguchi and it's directed by '80s wunderkind Jon Clark. This is an unofficial music video, but it's a match made in Heaven.
Anamanaguchi makes what's known as "chiptune" music, that is they play live instruments that are then processed through a hacked Nintendo game system, giving them a sound equivalent to '80s video game soundtracks. This particular song is very poppy, very fast and very catchy.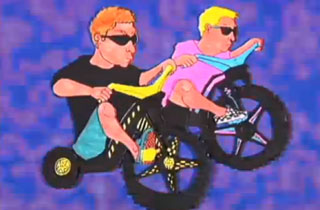 Jon Clark, a regular on the Underground Film Journal, is a favorite thanks to his perfect channeling of the '80s through his numerous films and videos, such as Baggs: The Movie and his "Black Cat" rap video. "Video Challenge" is an incredible blend of live action and animation, including some groovy rotoscoping of a breakdancer. Also, the sequence in which a dude is miniaturized and stuck in a pinball game looks just a gimmick taken right out of an '80s MTV music video.
"Video Challenge" also screened recently at the Zero Film Festival.