Jerry Bails, R.I.P.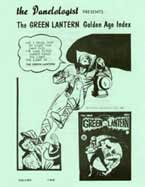 I want to note the passing of pioneering comics historian Jerry Bails. He died last Wednesday, Nov. 22, in his sleep of a heart attack. He was 73 years old. I first read the sad news on Mark Evanier's News From Me blog, but Tom Spurgeon has a nice obit on The Comics Reporter, too.
Back in the mid-'80s when I was a high school comic book nerd, I helped Jerry out on a comics indexing project he was working on. He'd send me a massive list of comics that had already been indexed, then I would go through my own collection — which was fairly extensive back then thanks to my dad buying a major haul of '70s comics from a co-worker's brother — and find comics not already on the list. Then I'd note down all the credits: writer, penciller, inker, letterer, colorist, editor and send my own list back to Jerry, which he compiled for his book. For "payment," Jerry sent me a couple of All-Star Squadrons to plug some holes in my run and two oversized, black-and-white, Golden Age reprints. I'm positive one was a Human Torch reprint and I think the other was a Captain Marvel, but they're currently buried in a box somewhere so I can't double-check. I also tried to find some of the letters Jerry sent me then, but I must not have them anymore.
I'm not sure at the time I was fully aware of what a legendary comics fandom figure Jerry was, but he was an incredibly nice guy to me and he sent me some very nice letters that I'm pissed I probably got rid of them. He sent me those free books even though I totally would have helped him out for nothing.
I'm not sure if Jerry's online Who's Who of American Comic Books 1928-1999 includes part of the work I did for him, but it could. And as I just found out, the indispensible Grand Comic Book Database also worked with Jerry, which is great since whenever I visit that site I think of the time I spent indexing for him.
Finally, Jerry may be most known for founding one of the first fandom zines, Alter Ego, but I decided to illustrate this post with the cover of his Panelologist cuz I've always dug the original Green Lantern's costume.