Jeff Keen, R.I.P.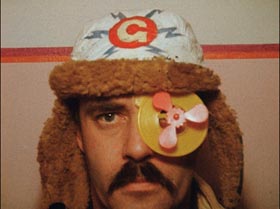 Jeff Keen, the iconic British underground filmmaker and artist, passed away on June 21 after battling cancer for the past several years.
Keen began making films in the early '60s and, although he was geographically distanced from the then burgeoning underground film scene in the U.S., his work was remarkably contemporary to and prescient of the techniques and styles of the art cinema of the time.
Films like his legendary Marvo Movie (1967) are a hyper-kinetic assault of pop culture iconography, American B-movie flair, playful performances, personal observation and other highly stylized visual arrangements filmed through double exposure, single-frame photography, stop-motion painting and other techniques.
Despite making films steadily for over 40 years, knowledge of Keen's work never transcended much further past his native England. However quite recently there has been a growing global interest in his films and artwork that coincided with his falling into ill health and other recent troubles. Articles, such as this one by young filmmaker and journalist Daniel Fawcett, brought attention to Keen's plight.
In 2009, the British Film Institute released a major retrospective DVD box set of Keen's films. Then, just this year, Keen had the first ever solo exhibition of his work in U.S. at the Elizabeth Dee Gallery that included his drawings, paintings and films. A retrospective of his films also screened at the 2010 New York Film Festival as well as just recently in Paris and will be shown again in July at the Revelation Perth International Film Festival.
For more info on Keen, please visit his official website, which is still online, and watch this great video interview with him.