Jammin' The Blues — Gjon Mili
Jammin' the Blues by Gjon Mili. Completed in 1944.
Gjon Mili is primarily known for his work as a photographer, particularly his portraits and experimental use of strobe lighting, much of which appeared in Life magazine.
In the book Norman Granz: The Man Who Used Jazz for Justice, author Tad Hershorn goes into great detail in the making and release of the film. After building a career as a photographer in New York City, Mili was flown to Los Angeles by Warner Bros. to see if he would be a good motion picture director. Mili proposed a jazz film to producer Gordon Hollingshead, which the studio moved forward on. Granz, the subject of Hershorn's book, is listed as the Technical Director of the film in the opening credits (see below).
Jammin' the Blues was filmed over four days in September 1944, and released that December. There was some controversy surrounding the film due to the almost exclusively African-American cast. Barney Kessel was cast as the only Caucasian musician, and his race is primarily disguised by the shadowy lighting.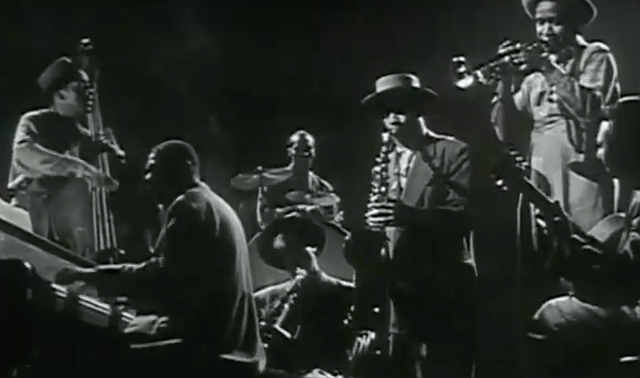 The film opened to positive reviews and was nominated for an Academy Award for Best Short Subject. It lost to Who's Who in Animal Land, a Paramount film.
The original source of the above bootlegged film is unknown.
The film also did screen in the Spring 1947 edition of the Art in Cinema series, the catalog of which does note that the film was produced by Warner Bros. and was screened courtesy of the studio.
The opening credits lists all of the musicians appearing in the film, but not the songs. The biography Billie Holiday: Wishing on the Moon by Donald Clarke notes that the song sung by Marie Bryant is "On the Sunny Side of the Street." According to Clarke, Holiday and Bryant were lifelong friends beginning in the 1930s.
The full opening title credits read as follows:
Warner Bros. Pictures, Inc.
Presents
Jammin' the Blues
With
Lester Young
Red Callender
Harry Edison
Marlowe Morris
Sidney Catlett
Barney Kessel
Joe Jones
John Simmons
Illinois Jacquet
Marie Bryant
Archie Savage
Produced by
Gordon Hollingshead
Photographed by..Robert Burks, A.S.C.
Technical Director….Norman Granz
Film Editor…….Everett Dodd
Sound by..Charles David Forrest
Art Director……..Roland Hill
Copyrighted MCMXLIV
By the Vitaphone Corporation
All Rights Reserved
Directed by Gjon Mili
---
The film concludes with a THE END card.