ISM ISM — Manuel DeLanda
ISM ISM by Manuel DeLanda (1979).
ISM ISM is a documentary chronicling director Manuel DeLanda's own graffiti work. He focuses on his collage manipulation of public advertisements — primarily cigarette ads — as well as spray-painted philosophical text. The film was shot in Super 8mm and blown up to 16mm.
DeLanda was active in the New York City underground film scene in the late '70s to the early '80s. He was one of the names called out in Nick Zedd's Cinema of Transgression manifesto that was published in 1984 in the Underground Film Bulletin. Zedd listed:
"such underground 'invisibles' as Zedd, Kern, Turner, Klemann, DeLanda, Eros & Mare, and Direct Art Ltd."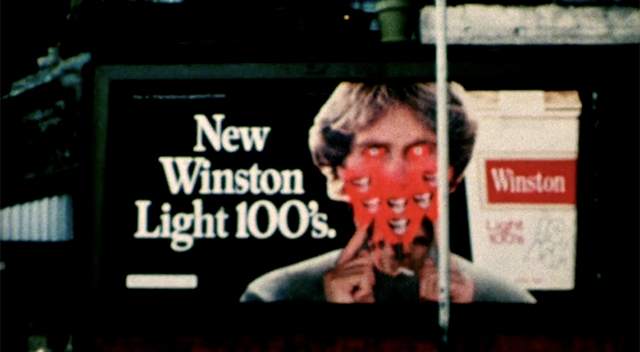 After making just a handful of films, DeLanda focused his career on philosophy, a subject on which he has written several books. He also lectures on the subject at Princeton and the University of Pennsylvania. In an interview in the book Deathtripping, first published in 1995, Zedd remarks to Jack Sargeant that DeLanda had stopped returning his phone calls.
Also in Deathtripping, author Sargeant describes ISM ISM as having a "punk soundtrack". However, the restored version of the film that is online is audibly silent. The Anthology Film Archives preserved ISM ISM with support from the National Film Preservation Foundation and The Andy Warhol Foundation for the Visual Arts.
The film screened on October 22, 1985 as part of the second annual New York Film Festival Downtown.
There are no credits on-screen except possibly the phrase "ISM ISM," which may be referring to the title of the film or that "ISM ISM" was the graffiti name that DeLanda used to sign his work.
A book on the film was published in 2018, written by DeLanda and edited by Andrew Lampert and John Klacsmann.