Introducing: Underground Filmmakers Enhanced Index Pages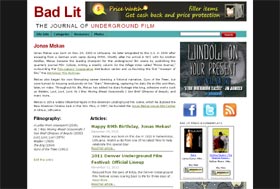 Over the New Year's weekend, the Underground Film Journal launched another large-scale project aimed at providing the most comprehensive coverage of the avant-garde, experimental and cult film world. This project consists of creating enhanced index pages for the underground filmmakers written about on the site, containing biographical information, filmographies and lists of all the articles written about them.
While a version of these index pages have existed on the Underground Film Journal for a little over a year, they were very poorly formatted and bordered on the edge of useless. From appearances, it may look as if these index pages have improved only in design and layout, but an entire new back-end system is now being used to create them, allowing for even more helpful information to be added in the future.
As of this writing, there are only 132 underground filmmakers with an enhanced index page, most of which have incomplete data due to the space limitations of the previous version of the indexes. Current plans call for incorporating some design tweaks, building more complete filmographies for the filmmaker pages that already exist, slowly building index pages for more filmmakers and then figuring out what other kinds of data should be added to all of them.
This new project actually fulfills a dream that was conceived almost ten years ago. However, it wasn't until just recently that all of the technical pieces to manage it properly finally came together. The enhanced index pages are built using two specific features of the WordPress content management system, which has been used to power the Underground Film Journal since 2005. Using a combination of WordPress' native tag indexing system and by creating a new Custom Post Type allows for multiple types of data to co-exist on a single index page.
Using WordPress in such a way can create a site that is both a newsmagazine and a pseudo-wiki, which the Underground Film Journal has been aiming for since it started focusing exclusively on the underground film world.
To see what these enhanced index pages actually look like, here are some sample filmmakers that have one: