Interview With Filmmaker Joshua Brown
It hasn't exactly been a secret around these parts that Joshua Brown's debut narrative feature, Altamont Now, is one of my favorite films of the year. it's an hilarious and exhilarating movie about a young punk rock superstar who, along with his poseur cronies, drops out of society to take over an abandoned nuclear missile silo and launch a youth apocalypse.
Below, Brown discusses his filmmaking background and what specifically led him to make this ambitious underground film:
Underground Film Journal: What's your background? How did you get into film and TV production? What was your first film job?
Joshua Brown: I grew up in Maryland outside of DC. Thinking back on it, the Dischord Records scene was a big influence on kids like me growing up there. Like, just going out and making a record and distributing it yourself — I always hoped to bring that sensibility to film.
I studied film theory at Brown University, where I was exposed to a ton of underground/experimental films — from Michael Snow to Leslie Thornton to Jon Moritsugu. After a short time selling women's handbags at a department store in Paris (don't ask), I got my MFA at NYU in film directing. At the time, this was a super-traditional film school program, very influenced by the Scorcese/Spike Lee kind of thing.
My first film job was after I just started college — working in New York City as a locations manager on Todd Haynes' first full-length feature, Poison. Getting to work on that was so lucky — I think I was the first intern hired onto the film. I got a window into the talents of people who would go on to do such amazing work — Todd, producer Christine Vachon and the line producer Lauren Zalaznick, who is now the head of Bravo. I went back to school and lost touch with them over the years, which is a drag because they are totally my indie film heroes. (Uhh, Todd, email me if you ever read this!)
That summer on Poison was a very interesting cultural moment in NYC — pre-Giuliani and very uneasy. Both Sonic Youth's album Daydream Nation and Spike Lee's Do the Right Thing came out that year. I was too young to be a part of it but it was really cool to witness some of that.
UFJ: It seems like for most of your career you have been a TV producer, writer and editor. What was the defining moment when you said to yourself, "I have to make this film!"
JB: I never set out to work in television — but that seems to be where most of the paying work is for a filmmaker in New York City. (Hey, a guy has to eat.) In the late '90s, I made a feature documentary about the legendary cult TV talk show host Joe Franklin called 50,000,000 Joe Franklin Fans Can't Be Wrong. But, after that film, I was only able to put together TV projects. All of my film projects were false starts for all sorts of reasons — mostly not having any money.
I was dying to make Altamont Now, but was nervous about a no-budget film which takes place in a nuclear missile silo — pretty understandable, I guess. Finally, one year at the New York Underground Film Festival I saw a film which blew my mind– Jon Moritsugu's Scumrock. I thought if he could make such a bad-ass film shot for nothing on VHS, why not give it a try.
UFJ: Altamont Now is adapted from a play by David Bucci. How did you learn about the play? Did you know David? Or did you just happen to catch a performance?
JB: David Bucci is a super-talented playwright whom I knew in college. I was also a big fan of his band Enduro. When I heard the plot of his upcoming play Altamont Now, I begged him to let me read it. I never saw the theatrical production in Austin and I'm glad that I didn't. From what I hear, it was a really successful production, but by not seeing it I could think of the play more as a "script" rather than an exact stylistic blueprint for how to make the film. Bucci was totally instrumental in helping to shape the film, from the script all the way through the edit.
UFJ: What about this play made you want to adapt it into your directorial debut?
JB: The themes really spoke to me. Bucci's play is all about the cultural fallout from the 1960s … fallout from which we are only now recovering. What does it mean to "rebel"? What are we rebelling against and why? What do we really want in "underground" culture (and what is underground culture anyway)? Are we caught in an endless loop of rebellion cliches, or are we discovering something new?
From a cinematic point of view, after reading the play I thought a film version of Altamont Now would be like no other film I've ever seen. Why not try something different on your first narrative feature. The combination of genres is very unusual and dabbles in excess, drawing on melodrama, musicals, documentaries, blaxploitation, youthsploitation, underground films, B movies, even indie rock. I had no idea how the film would turn out– which was both fun and very challenging.
UFJ: What changed the most going from play to movie script?
JB: Since "The Kids" (aka the white hipster revolutionaries) in the film are all about appropriating their language and ethos from the late '60s Black Power movements like the Black Panthers, I felt like it was important to cast an African-American actor as the visiting journalist who turns their world upside down. (Raphael Nash Thompson, who was so incredible in a role that had so much danger to screw up.) In the play, the race of the character is not specified.
But the biggest thing that changed was the very fact that it is a film and not a play. How you deal with excess is totally different in each medium. When you have Richard Havoc proclaiming "All the kids got out there now is a LUNCH-counter-culture, you dig? Rye! Roll! Pumpernickel! Mustard! Mayo! Russian!" There were many times I wondered, "Uhhh, how is this going to play on screen versus live in the theater?" It's a testament to the skill of the actors that it works at all. At least, I hope it works!
UFJ: Throughout 2008, the film has screened at a ton of underground film festivals. When you decided to make Altamont Now, did you intentionally want to make an "underground" film? Or did you just think of it as an independently made film?
JB: That's a great question. I guess I did intend to make an underground film. Altamont Now plays with a lot of the conventions of this type of movie — everything from the scuzzy look to Richard Havoc's purposefully fake beard in the edit room scenes.
I always thought it would be cool to make an underground film that was kind of a cult thing, where very few people know about it and it gets passed around by word of mouth. But, only after making the film do I now understand the implications of that. Very few people know about my film! Is anybody out there? This can get a little frustrating sometimes. But perhaps now I got mad street cred.
Anyway, many of my favorite films are "underground" — I mean, The Beaver Trilogy should be playing every weekend. Same with Superstar: The Karen Carpenter Story.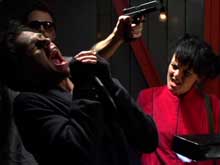 UFJ: Daniel Louis Rivas is phenomenal in the lead role as Richard Havoc. How did casting him come about?
JB: Because we had no money, we didn't consider actors who weren't New York-based. With the help of Stephanie Klapper, a wonderful casting director who did us a huge favor, we found amazing actors for all the other lead roles. But, we had trouble finding someone who had the magnetism/aura for Richard Havoc — like a young Iggy Pop. But, there was one actor who had been stuck in the back of my mind. A few years ago I worked on a TV documentary series for Bravo called The It Factor, which was about the struggles of up-and-coming actors. Danny Rivas was one of the actors who had been followed on the series. I knew Danny would be perfect for Richard Havoc, especially since I had seen raw footage of countless of his "Hollywood" auditions.
We called him up and it turned out he was from New York. He loved the script so much that he was willing to come here and stay with his family to help us out. All of the Altamont actors are astoundingly talented and were so great to work with.
UFJ: The setting of the film is also very unique and ambitious. What made you want to film in a real missile silo and not, say, dress up some basement somewhere and save a couple of bucks?
JB: I was worried about making a no-budget film that takes place primarily inside of an abandoned nuclear missile silo. (An understandable worry.) Making the film on a dressed set would be way too expensive. But from my locations work on Poison, I held to a slim bit of hope that some sort of governmental organization might come through to support a "small arts film" — like maybe someone had an abandoned military facility or section of a power plant they could spare. My producing partner Lauren Eskelin and I did a ton of Internet research — it took months. We visited a whole bunch of places, had hopes for everything from a dormant nuclear power plant on Long Island to the Biosphere II in Arizona. But anytime we got close, it fell through.
Finally, I asked our intern Jennifer to do one last Google search of "abandoned nuclear missile silo." And up popped siloboy.com, the website for an abandoned Atlas-F missile silo in upstate New York purchased from the government by Australian architect Alexander Michael. He's renovated the place into a part-time home and plans to turn it into an amazing dance club. (Which it would be!). He was incredibly generous to allow us to shoot at his silo and is truly the angel who swooped down and made this film happen.
UFJ: You're already working on your next film, right? What's that going to be?
JB: While working on Altamont Now, I've also been co-directing a feature documentary with a filmmaker colleague of mine from NYU, John Mikulak. It's called The Man Who Would Be Polka King and it should be hitting the film festival circuit in the upcoming months. It's a story that is too amazing to be made up: The rise and fall of a Grammy-nominated polka music star named Jan Lewan, whose Pennsylvania polka music empire turned out to be based on an elaborate polka-related investment scheme, cheating hundreds of his fans out of over $10 million dollars.
The film is finished and we should have a trailer and website up within the next 4-6 weeks!
For more info, please visit the official Altamont Now website.