Interview: Neil Ira Needleman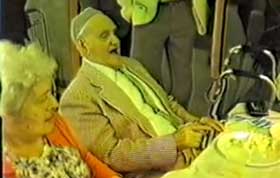 Neil Ira Needleman is one of the most prolific and stylistically diverse filmmakers working in the independent and underground film worlds today. Yet, because of that diversity, his work tends to fly under the radar, catching audiences unaware at the dozens of film festivals he screens at every year.
Becoming familiar with Needleman's films, one can at last start to piece together a consistency in his authentic documentation of a reality that may or may not exist. But, perhaps, an emphasis on "may not." Although he began his career working with Super8, he now works exclusively in video, giving his films an immediacy and an air of authenticity that the filmmaker can completely subvert at will.
Drawing upon a broad range of personal experiences, such as his Jewish heritage and his long career working in advertising and marketing, there is always an element of emotional truth even when it becomes clear a particular film is pulling the audience's collective leg.
Needleman's films are the home movies we all wish we made ourselves, with grace, wit and an honesty most of us will never confess to.
Conducting an interview with Needleman is to walk a tightrope between wanting to know everything about his work, but at the same time maintaining the wonderment and mystery that exists within it. In the interview below, we hope we kept our balance:
Underground Film Journal: Did you study filmmaking? If so, where? If not, how'd you fall into it?
Neil Ira Needleman: Everyone who makes movies/pictures/videos has studied it, and for all of us it starts in early childhood by watching, observing, and absorbing the movies and TV shows that bombarded our eyes and brains. And if you were able to truly absorb what you had watched, it hits you—I've gotta do this!
Beyond that, I like to tell folks that I learned filmmaking in the streets and alleys of Brooklyn. And there's some truth to that: My first Super8 movies were all shot "on location" in my neighborhood in Brooklyn. The best way to learn is by doing, not by sitting in a classroom.
In Brooklyn College I was fortunate to meet Dr. Tom Gunning who helped open my eyes to filmmakers with a sensibility that was more like my own. These were the acknowledged mother (Maya Deren) and fathers (Brakhage, Anger, Jacobs, Frampton, etc.) of the avant-garde/underground/New American Cinema (and various other names) film.
At about that same time I started to attend screenings at Anthology Film Archives, The Millennium, and the Collective for Living Cinema (alas, long gone). Those were invaluable classrooms for me. Very inspirational.
For the record, I've never taken a "production" course.
UFJ: Is there a filmmaking practice that you would say you take inspiration from to approach your own films. For example, a filmmaker might describe his work as being in the structuralist, or transgressive styles of filmmaking. Is that something you're concerned about when making your films?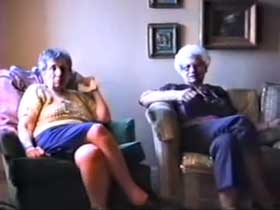 NIN: I'm certainly not concerned about fitting into a particular style with any video I create. I'm only interested in fulfilling my own vision for something.
UFJ: Several of your films are about your "day job" in advertising. Has there ever been any conflict between these two worlds of yours? Or are your advertising contacts oblivious to your underground filmmaking activities? Any crossover experiences?
NIN: I've worked in the creative departments of various advertising and marketing agencies for 30 years now — and you need a sense of humor to stay in the business that long.
Is there a conflict? Yes, because I'd much rather be working on my own projects.
Do my contacts in the ad biz know about my filmmaking? Some of my co-workers do. I don't make a secret of it. But I don't think many of them care. It's a world that's very far from the one they live in. I sometimes announce my upcoming screenings, but only rarely has someone from any of the agencies where I've worked over the decades actually attended. Here's a perfect example: There's a wonderful Arts Center just a few steps away from the agency where I work in Connecticut. My videos have been screened in a few of their exhibitions. But have any of my co-workers walked over? Only two or three. This isn't something that many of them are interested in.
UFJ: Can you go into a little bit of — or a lot of — detail on the production and distribution of your two feature films, Red Ribbons and Famous Again?
NIN: Gosh, Red Ribbons and Famous Again. Very interesting memories from the mid-80s. These two micro-budget featurettes came about because of the amazing spunk and organizing ability of my friend David Nahmod. (David and I used to shoot Super8 monster movies together as kids in Brooklyn.) Somehow David was able to get some very talented actors together for Red Ribbons. The cast included the late great Quentin Crisp — the Gay icon — and Georgina Spelvin, a terrific actress who was a star of adult movies in the '70s (The Devil in Miss Jones, etc.).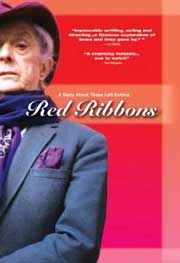 For Red Ribbons, I wrote the script, co-produced, directed, and did the camera work. It was shot and edited on consumer-grade Hi-8 equipment. I believe it is still in distribution by Waterbearer Films. The inclusion of Mr. Crisp and Ms. Spelvin, not to mention the topical Gay/AIDS theme, made it "distribution worthy." It was incredibly wonderful to work with Mr. Crisp and Ms. Spelvin.
We followed up that movie with Famous Again, which reprised some of the same cast. Mr. Crisp had a small (but fun) role. Again, some fine acting and a semi-interesting script. My direction in both movies was fairly deplorable. What I learned from these two works is that I'm more interested in brining my personal vision to life than in collaborating with others or organizing productions. Famous Again, incidentally, has never been distributed.
UFJ: It seems after those two features, you moved into and have stuck with short films? Are they more fulfilling?
NIN: I answered this above, but I'll add something: At work, I'm a professional creative person. What I write/conceive is done for hire to fulfill the specific needs of a particular client or project. Everything I do on the job is subject to criticism, scrutiny, and revision by a battalion of people, from co-workers to clients. The work I create on the job is how I earn my living. But my personal projects (my videos) are what keep me alive.
UFJ: Your films float between fiction and autobiography. Is there an overall conscious decision to create a cohesive "meta" version of Neil Ira Needleman throughout your work? Or do you just decide whatever works for each particular film?
NIN: When you tell someone about something you made up, you call it a "story." When you tell someone about your real life, you still call it a" story." "Let me tell you a story" and "Let me tell you the story of my life" are very close, methinks. And, since the real Neil ain't all that interesting, I'm not interested in telling his story. But the real Neil has interesting stories to tell, stories that come from things he's experienced and people he's known.
New Old Videotape Memories is a perfect example of this. It's all about stories, stories within stories, stories about stories. All disguised as videotape-based memoirs.
Many people ask me if my stories are "true." I tell them, "They may not be 'true' stories, but they're 'real' stories."
There's no "meta" version of Neil that I'm aware of. But I think my imprint is on everything I create. And, when all is said and done, I hope people see me (through my work) as a generally upbeat guy who loves the act of seeing, who is excited by visual rhythms, who believes that humans can do great and profound things, and who would rather laugh at the world than kvetch about it.
UFJ: Your films have screened at a wide variety of film festivals all over the world, from Jewish film festivals to experimental ones. However, do you primarily submit your films to underground festivals or are they just the ones that just happen to primarily program your films over other types of fests you may submit to? Or, do you feel like you're evenly spread out across all kinds of fests?
NIN: Since my videos cover a wide stylistic gamut I submit them to a wide range of film festivals and venues. I try to submit them to places and events that are appropriate for each one. Some of my Jewish-themed videos are accepted at Jewish film festivals, but some of them are too offbeat for the "mainstream" programming at those festivals. (A good example of this is Heritage Chutzpah, which is in this year's Black Maria Film Festival.)
I tend to feel that many of my videos aren't "underground" enough for some underground film festivals, which is why they continually reject them. (I suppose that's the reason, but I may be wrong.)
I'm most pleased when my more adventurous and visually challenging videos get programmed. I love to see videos like Lighthouse Polka, Tanz, Respect for Red and Green, and Loud Video on the big screen. It happens occasionally.
UFJ: You upload most, if not all, of your films YouTube and/or Vimeo. Do you do that before, after or concurrently with a "festival run"? Do you have an overall strategy with releasing films, or does it vary per film?
NIN: For every video that I've uploaded, there are many more that I won't/haven't. I think I have too many videos online right now and I'll start to do some pruning. The first to go will be those that simply don't translate well to low-resolution files, the small computer screen, and an online viewing environment. But some of the videos I have on YouTube and Vimeo are made for those channels. Those videos include This Video Has Been Removed, My Latest Abstract Video, and What is Viral Video.
UFJ: Have you ever considered releasing your short films on DVD? Or any other format besides uploading online?
NIN: If I thought folks would want to pay their good money for Neil Needleman DVDs I'd release them. But who is Neil Needleman?
Watch Neil Ira Needleman's Corporate Art Policy:
[vimeo 24589957 w=480&h=360]