Interview: C.W. Prather, Director Of The Spooky Movie International Horror Film Festival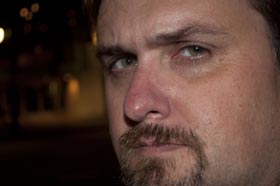 The Underground Film Journal has long been a huge fan of the Spooky Movie International Horror Film Festival. Every year we're extremely impressed with the way it pokes, prods, pushes and stabs the horror genre in entertaining new directions through its diverse selection of boundary breaking movies. Some of our favorite horror flicks of the past few years — such as James Eaves' Bane, Rona Mark's Strange Girls and Stuart Simpson's El Monstro Del Mar — came to us through Spooky Movie.
This year will mark Spooky Movie's seventh year in existence and it should prove to be a major milestone in the fest's history as it will move to a new home at the prestigious AFI Silver Theatre in Silver Spring, Maryland. As the festival busily prepares for their biggest edition yet to be held on October 10-18, we thought we'd check in with its founder and director, C.W. Prather, who also directed the amazing horror host documentary Every Other Day Is Halloween.
Underground Film Journal: One of the truly great aspects of Spooky Movie is the diverse range of types of horror films that get programmed. Is there a definite mission of the festival to broaden the scope of what's considered horror? Or do you just program what you like?
C. W. Prather: Since 2006 the Spooky Movie International Horror Film Festival's central objective is to spotlight innovative, independent and international horror, science fiction, underground and cult works. That's the official company line. We have worked hard to remain consistent with a vision that the fest is an advocate for all that the genre has to offer – films that can both challenge and entertain the audience in the theatrical setting.
As the fest gets bigger, the challenge for us is to always have plenty of room for films that might be more provocative or difficult to classify. This is why the submission process, where filmmakers send in their works (which we are in the middle of right now, so please submit!), is so important.
Some of our audiences' favorite films from over the years have come in through this: Strange Girls, Murder Loves Killers Too, Skew, El Monstro Del Mar and Colin, to name just a few.
Naturally, the films we program I stand behind as the founder and director, but it really is about finding a perfect balance we want an audience to experience.
When September rolls around and we make our final choices, there are always some very tough decisions regarding some brilliant films we passed on.
It is one of the reasons why we will always be, like Telluridie or Mill Valley, a non-competitive festival. Each of the films – features as well as the shorts – is part of a larger experience for our audience, it seems disingenuous, for us at least, to try and judge any one above another.
That always sounds so snobby, but it is true, and it is still the core of the mission.
UFJ: What's the brief rundown of the history of theaters where Spooky Movie has screened over the years?
CWP: Our home base for the first five years was at a fantastic first-run movie house in Northern Virginia – Cinema Arts, next to George Mason University in Fairfax, VA. They spoiled us from the start – being in a real movie theatre, with the smell of popcorn and an excited local audience. It was a destination, and felt like it. We loved it there – hardcore horror fans loved it – it always felt like home whenever we would go back.
There were two drawbacks with this location, however; the first was that it was a first-run theatre, which meant they had very specific contracts they had to honor with the studios, which impacted our screening times. And second, being in the thick of the Virginia suburbs with no metro access meant we were limiting the potential audience.
There were exceptions to this obstacle – when Lloyd Kaufman came out for the DC area premiere of Poultrygeist: Night of the Chicken Dead, we pulled in people from DC and Maryland, but by and large, the Potomac River, or maybe it is the DC beltway, has some strange preventive power with people in this area.
People from Silver Spring, Maryland are more willing to drive 2 hours to Richmond, Virginia than 30 minutes to Fairfax, while Virginians would much rather drive 90 minutes to Baltimore than over to Silver Spring. Its just something very, very odd about this area. Both funny and infuriating, and I'm as guilty as anyone else.
This became crystal clear with us in 2009 and 2010 when we did Opening Night for the festival at the AFI Silver Theatre and Cultural Center, which is in Silver Spring, and the rest in Fairfax, Virginia at Cinema Arts; it was obvious we were programming to two different audiences, and made it very difficult to promote or anticipate.
Last year we had the opportunity to move the festival to a new arts space venue in Arlington, Virginia. Location wise, this couldn't have been better for us. We were still in Virginia, but right on top of a subway station less than a mile from DC itself. They also gave us the freedom to really expand the festival, which helped in securing some of the best films on the circuit last year, like The Dead, Midnight Son, The Oregonian and Helldriver, and brought more and more filmmakers out.
From most every possible point, that was our most successful festival, and we were all really looking forward to returning this year – but then we got the opportunity we couldn't refuse, which was to move the entire fest to the AFI Silver, which had always been my personal goal with Spooky Movie. So we move again this October!
UFJ: The fest has held special screenings there in previous years, right?
CWP: Correct. As I said, we had our opening night events there two years in a row: Herschell Gordon Lewis was there for a special 45th Anniversary screening of Two-Thousand Maniacs in 2009, and then in 2010 we scored an early release screening of the great Tucker and Dale Vs. Evil. Both were a lot of fun.
We also programmed a couple of stand-alone events during the summers, including Peaches Christ and Mink Stole with a special screening of the wonderful All About Evil. I think that really showed all of us what could be done.
UFJ: What does being at AFI Silver this year mean for the festival just in terms of the physicality of the theater, e.g. its geographic location within D.C., the number of screens you'll be on, the projection quality, etc.?
CWP: The AFI Silver is – hands down – the best venue in the "DMV" (DC/Maryland/Virginia) and a quantum leap forward in our growth, even after last year, which was awesome.
All three of their theatres are state of the art and can screen most any format, including HDCam and 35mm. They also have projectionists on hand who do this 365 days a year, which is tremendous.
While I will miss being in Virginia (I live 5 minutes from last year's venue), and hope much of our core audience follows us there, the Silver is close to the subway in an area that has really exploded with regards to restaurants, people and activities, which will also help when we begin looking for partners for possible after-parties and such.
UFJ: Spooky Movie also always has great events surrounding the regular film screenings. Are you planning anything special this year?
CWP: My focus right now is on the programming and in making the festival's foundation more secure. We are currently working an advisory board made up of local filmmakers and professionals on the right directions we should be going for the long haul.
However, it is our hope that some of the films we are already lining up may lend themselves to some fun. These things always seem to come together in the 11th hour. I just hope there are gourmet tater-tots involved. And maybe a television vampire. Then you know its a real party!
UFJ: So Count Gore De Vol will be making an appearance?
CWP: You cracked my code! Absolutely! We are expanding the fest from four to nine nights this year (October 10-18), so if I get my way the Count might be making more than one appearance! Hell, if he's not careful he might be behind a concessions stand or bar. Seriously, though, he remains a local favorite and we could not have made it 7 years without his help.
UFJ: Horror isn't always the most well-regarded of genres within the cinema world outside of its hardcore fans and makers. Does holding a full Spooky Movie festival at the AFI Silver Theatre lend an air of respectability to the genre overall?
CWP: That's a lot of pressure for one festival at one theatre!
I don't know about about the throngs at large, but locally, long time movie fans here in the DMV know that whether the AFI was in Silver Spring, Maryland (which it has been now for 10 years), or downtown DC (when they were in the Kennedy Center for over 25 years), that there has always been a place in AFI's programming for the challenging, the cutting edge and the creepy. Everything from The Vanishing to Shakes The Clown to Reservoir Dogs to John Woo's The Killer – all played in DC before most anywhere else because of the AFI. And since their move to Silver Spring, it has absolutely continued.
In fact, the new films Spooky Movie will be programming in October will be alongside classic repertory Halloween offerings, including their annual screening of Nosferatu with live music, or the zombie films AFI screens in connection with the Silver Spring Zombie Walk, which attracted close to 5000 people last year.
UFJ: Are you hoping maybe some of the classic or artsy film fans who may not necessarily into horror or are casual horror fans will pop in for a film or two?
CWP: Of course! These are legitimate film fans who come out to the AFI Silver, but not everyone has to enjoy or "get" horror films.
I do hope that those who give Spooky Movie a shot will discover what many of us already know, which is that horror, or genre, filmmaking is where you will find the most creative and fun true independent filmmaking going on today. And not just here in North America, but from all over the world. Year in and year out, it is a fantastic barometer into our collective unconscious.
This October the Spooky Movie International Horror Film Festival will find itself in very privileged company, among fests like the European Union Film Showcase, the AFI Latin American Film Festival and without a doubt SilverDocs, in my opinion the best and most inspiring documentary film festival anywhere, all of which call the Silver their home. It is a little intimidating for us coming in.
Naturally I hope that many of the regulars at the Silver give us a shot, but I am just as focused on making it the place for the hardcore genre fans who are owed just as much respect as any other film fan. I think both can find a home with us – the artsy and the fartsy. Don't forget, Mike, that David Lynch's Eraserhead was funded by the AFI.
Website: www.spookyfests.com
Facebook: http://www.facebook.com/#!/pages/Spooky-Movie-The-Washington-DC-International-Horror-Festival/35142648410
Twitter: http://twitter.com/#!/spookymovie
Photo Credits:
AFI Silver Theatre exterior: Brian Maze
Peaches Christ and Mink Stole: C.W. Prather
C.W. Prather portrait: Himself