INCITE! Journal #4 Going Into 2nd Print; #5 Out Soon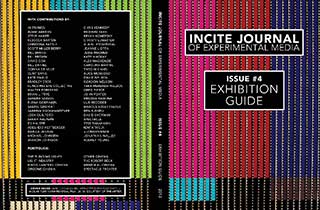 The brilliant and essential INCITE! Journal of Experimental Media issue #4 is going into its 2nd printing and can be pre-ordered right now. The 1st printing of this epic tome sold out almost immediately. The 2nd printing will be limited to just 300 copies and it would not be surprising if it sold out just as quickly.
Subtitled "Exhibition Guide," INCITE! #4 is an in-depth and exciting survey of the microcinema movement past and present with many chapters written by those who have been active participants in keeping the world of underground film screenings active. Some of the contributors to the issue include Steve Anker, Jeanne Liotta, Clint Enns, Walter Forsberg, Brian L. Frye, Sarah, Halpern, Ed Halter, Bryan Konefsky, Marcus Rosentrater, Jesse Malmed and Audrey Young. There are also loads of photographs and a fantastic portfolio of flyers for microcinema screenings at the legendary Other Cinema, The Robert Beck Memorial Cinema, Light Industry and more.
If you consider yourself a fan or a scholar of underground, avant-garde and/or experimental cinema, then INCITE! #4 is a must have item for your library.
And, just as exciting, hot on the heels of the powerful INCITE! #4, the journal has announced that its 5th edition is nearly ready to go into print itself. INCITE! #5 is subtitled "Blockbuster" and examines the typically unspoken relationship between underground film and Hollywood. This issue can also be pre-ordered now.
Some of the contributors to INCITE! #5 are Christina Battle, Roger Beebe, Walter Forsberg, Oliver Laric, Kevin B. Lee, Jodie Mack, Lucy Raven and more.
Last, but not least, INCITE! has announced that it is currently accepting submissions for its 6th edition, which will be out in 2015. The theme of this issue will be "Forever" and is looking for articles centered around the question, "In contemporary economies of immediacy and connectivity, what is temporality's role and relevance other than as a force to be exploded?"
The deadline for submissions for INCITE! #6 is December 1, 2014 and information regarding submitting can be found at the INCITE! website.
INCITE! #4: Exhibition Guide (2nd printing): Pre-order here.
INCITE! #5: Blockbuster: Pre-order here.