INCITE! Journal #2 Out Now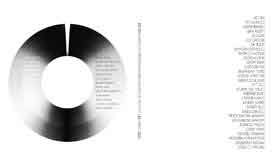 (I apologize in advance for the course language in my lead paragraph. But, I'm just that excited.)
If the first issue of INCITE! kicked ass — and it did — then the second issue, which was just released, kicks major ass.
Subtitled The Journal of Experimental Media and Radical Aesthetics, the second, compact but bursting with ideas, edition focuses specifically on notions of remixing media and the function of archives to fuel new artists' work. Editor Brett Kashmere, who already did a phenomenal job on the first issue, tops himself here with a much more cohesive set of articles.
What's most engaging about INCITE! is that it straddles the aesthetics of serious art journal and fan magazine. What really comes out through the pieces is just how passionate the authors are about their subjects, whether it's one filmmaker interviewing another filmmaker that they admire, or the dissection of a particular filmmaker's work, or a think piece on the future of film archives, or anything else. Each article offers up serious food for thought and discussion about different aspects of the overall issue's theme.
Some of the more stand-out articles include one of the last interviews with the late Bruce Conner, a pioneer of remixed media films, conducted by Amelia Does; plus William C. Wees' analysis of Conner's 1976 film Crossroads, which utilized government atomic bomb testing films.
There are also numerous interviews with filmmakers such as Mike Maryniuk, Michael Robinson, Cory Arcangel and Aleesa Cohene.
Then, in addition to the interviews, there are articles by Ryan Tebo, Evan Meaney and Brittany Shoot on the use and manipulation of film and video archives; Ben Russell on the manipulation of live events in his own experimental documentaries; and an extensive article by Bart Testa on the films of obscure Italian avant-garde filmmaker and artist Paolo Gioli.
All that and more is just in the print portion of the journal. INCITE! #2 also comes with a DVD featuring the work of some filmmakers included in the print articles, such as Noam Gonick and Evan Meaney, as well as many who are not, like Penny Lane, Philip Widmann, Bryan Konefsky, the group I Love Presets and more.
I confess I haven't watched the DVD yet. I was so thoroughly impressed and enchanted with the print portion that I wanted to get this post up before waiting too long. But, it's a great lineup and I'm anxious to get to it. (The current plan is to do a separate full review post on the DVD.)
If this all sounds great to you, then you can get a copy of INCITE! #2 — and #1 as well still — at the journal's official website. And at 120 pages with a DVD for 12 bucks, it's a steal.