In Theaters: Poultrygeist: Night Of The Chicken Dead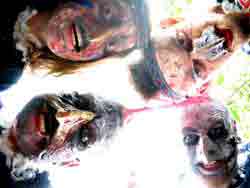 Opens April 17
Various times and theaters (see below)
Released by: Monogram Releasing
Poultrygeist: Night of the Chicken Dead, directed by Lloyd Kaufman.
Arbie (Jason Yachanin) is still nostalgic about the time he "lost it" to a girl, Wendy (Kate Graham), but after one semester at college the cute girl-next-door has become a bra-burning liberal feminist lesbian. Out of spite, Arbie gets a job at the place Wendy and her girlfriend are currently protesting: the latest franchise in the American Chicken Bunker fast food chain.
However, the Chicken Bunker has been built over an ancient Indian burial ground and the  spirits don't take too kindly to the frying of fowl over their final resting place. Bubbling up from the grave, the undead infect the living and turn everyone into flesh-eating chicken zombies.
Kaufman has directed over two dozen feature films and Poultrygeist is his tour-de-force. Loaded up with massive amounts of extreme gore, extreme excrement and socio-political humor, most surprisingly is how well the film works as a musical. The songs not only work well to advance the plot, but are frightfully catchy as well, particularly Kaufman's own duet with Yachanin while the pair are dressed as girl scouts.
Read the full Underground Film Journal review.
While the film was sporadically self-distributed in 2008 by Troma Entertainment, it's now getting a wider release from Monogram Releasing. Below is a list of theaters where Poultrygeist is screening:
Nova Georgia
340 Tanger Drive
Commerce, Georgia 30529
Studio 10 Cinemas
1624 E. State Highway 44
Shelbyville, Indiana 46176
Movieline: 398-FLIX(3549)
Georgetown 14 Cinemas
3898 Lafayette Road
Indianapolis, Indiana 46254
phone: (317) 291-3456
Nova 10
4353 Merle Hay Road
Des Moines, Iowa 50310
Theatres of Georgetown
401 Outlet Center Drive
Georgetown, Kentucky 40324
Branson Meadows Theatres
4740 Gretna Road
Branson, Missouri 65616
Branson Meadows Outlet Mall
Phone: 417-332-0464
Movie Hotline: 417-332-2884
The Amp Oxford Mississippi
206 Commonwealth Boulevard
Oxford, Missouri 38655
Movie Hotline: 662-236-4080
Portsmouth Cinemas
1623 Chillicothe Street
Portsmouth, Ohio 45662
Movieline: 355-FILM(3456)
Lake Geneva 4
244 Broad Street
Lake Geneva, Wisconsin 53147