Mock Up On Mu Assaults NYC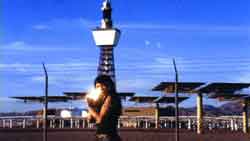 Craig Baldwin's dizzingly dense collage narrative Mock Up on Mu is screening all this week at the Anthology Film Archives. I'm a day late with this post, but there are two screenings per night from tonight, Jan. 15 to Tuesday, Jan. 20 at 7:00 p.m. and 9:15 p.m. The Underground Film Journal says: Miss it at your own peril!
I reviewed the film back in October after a special screening at REDCAT where Baldwin was in attendance to answer questions. And believe me after you see the film, you'll have questions! Starting off with: How the hell did this guy keep everything straight?
The film tells the quasi-true story about the relationship between Scientology founder L. Ron Hubbard, Kenneth Anger actress Marjorie Keller and Jet Propulsion Laboratory founder Jack Parsons. However, events are related via a futuristic spy story in which Hubbard needs to coerce Parsons into helping him build a rocketship in Las Vegas that will transport celebrities and other luminaries to his secret retreat on the moon. As a "collage narrative," the film combines modern-day footage starring Damon Packard, Michelle Silva and Kal Spelletich shot by Baldwin along with archival footage culled from what seems like hundreds of old sci-fi, monster and spy movies, plus other random debris woven into the visual tapestry. Plus, the real Aleister Crowley makes an appearance and a race of underground monsters pop up in 13 gloriously raucous and demented chapters.
You know, it's really hard to cram all the above info into a coherent paragraph to give an accurate enough account of the film. Yet, somehow Baldwin manages to keep it all flowing in a film that literally rockets from beginning to end. It's a movie so dense and trippy that I named it one of my favorite films of 2008.
Mock Up on Mu bounced all over the world last year in festivals from Australia to Switzerland to right here in the U.S.A., so it's good to see it plunked down in NYC for almost a full week so it can bewilder and entertain scores of Big Apple audiences. And if you don't want to just take my word for it, David Hudson at his new IFC blog has a round-up of reviews, including J. Hoberman's take. (As well as yours truly. Thanks, David!)
Jan. 15-20
7:00 p.m. & 9:00 p.m.
Mock Up on Mu, dir. Craig Baldwin
Anthology Film Archives
2nd Ave. at 2nd St.