Drew & Brent Live Film Performance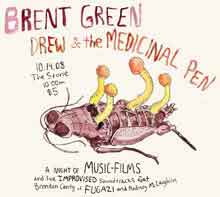 This is a quick note (quick so i can get it up before the performance actually starts) to say that Drew & The Medicinal Pen and Brent Green will be playing live improvised soundtracks to their films at The Stone in Brooklyn tonight at 9:45 p.m. Playing with them will be Brendan Canty of Fugazi — one of my favorite bands, by the way — and Rodney McLaughlin.
I've written about Drew several times on this site. I really enjoy his music. And, for another Drew event, I wrote about Brent in this post. Both guys are terrific filmmakers and great musicians with a similar sensibility. Throw a Fugazi member in the mix and you've got a nice show on your hands. If I still lived in Brooklyn, I'd be there.
Full info regarding the show is below. And to give you a little taste of what to expect, I've embedded a brief video clip of one of Brent's previous performances. Plus, please visit Drew's MySpace page to give his music a listen.
Oct. 14
9:45 p.m. (sharp!)
The Stone
(Ave. C and 2nd st.)
$5
DIRECTIONS:
* F or V train to 2nd ave.
* or JMZ to Delancey
P.S. Looking over The Stone's calendar, another good show will be playing tomorrow night. Dynasty Handbag Nao Bustamante, aka Jibz Cameron, also will be playing live along with her films. I favorably reviewed her hilarious short film The Quiet Storm in this roundup of shorts from the ATA Film & Video Festival.