In Austin: Mike Z's The Strip Cult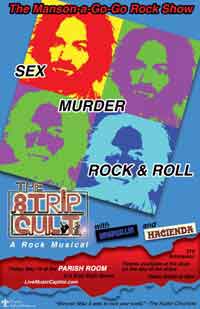 If you live anywhere near Austin, TX, you have to go see the new stage production by filmmaker Mike Z called The Strip Cult, which is a musical about Charles Manson. It's being performed this Friday, May 16 at 9 p.m. at the Parish Room. Tickets will be available at the door on the day of the show.
Mike Z, of course, directed the Underground Film Journal's 2007 Movie of the Year Wanted: New Talent! The Walt Gollender Story and we've been major fans of his film work for years. However, The Strip Cult is a live stage production and it looks to be as amazing as anything he's ever filmed. I've listened to a couple of songs from the show and watched a video clip from a rehearsal. And I gotta tell you, this thing looks like a real hoot. I wish I could make it down myself.
Here's the official description of the show from Z:
The Strip Cult

The Parish Room, 9 p.m., $10, all ages

For all its flower power sentiments, the psychedelic '60s had their dark side, just as LSD offers the 50/50 promise of oneness with the universe or a soul-shattering bad trip. Fully embracing the brown acid, rock opera The Strip Cult plants its go-go boots firmly in the era's seedy side, telling the Manson-inspired story of a wannabe ingénue corrupted by a drug-crazed serial killer. Ablaze with fuzz-laden grooves and liquid light, The Strip Cult is like a Kenneth Anger film come to life: Lost souls shake, rattle, and roll toward a violent end, exposing the dangerous nihilism behind "free love." An opening set from Cavedweller causes the kundalini creeps with stark psych-blues, while Hacienda's layered pop harmonies provide a smooth comedown.
The Parish Room is at 214 East Sixth Street in Austin. I can't urge people to go enough. Please, go.