Impossibly Funky: A Cashiers du Cinemart Collection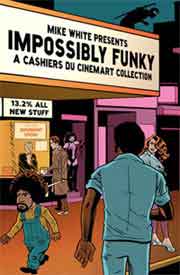 Before Google, there was Factsheet 5.
Factsheet 5 was a magazine published in the '80s and '90s that listed about a gazillion hand-produced, personal 'zines in every issue. It came out a couple times a year and, if you were interested in zines, it was like discovering the Holy Grail each and every time.
You'd pour through each issue, highlight a couple zines that sounded cool, send off a couple of bucks to each publisher, then wait a few weeks for the goodies to arrive in your mailbox. That might sound like a long, irritating process in these Internet instant opinion days, but it was quite fun and it was one of the only ways at the time to commune with people who had similar interests as yours all over the country.
Back in the mid-'90s, Factsheet 5 was the way I was introduced to the seminal film zine Cashiers du Cinemart, published by Midwesterner Mike White.
Right from the beginning, Cashiers was a unique and special publication. It was smart without being intellectual. A little bit smart-ass without being arrogant. Obsessive without being didactic. Reverential — when appropriate — without being fawning.
Out of all the film publications from then and since, and out of the thousands of film websites out there today, there was and is simply nothing else like Cashiers du Cinemart.
Unfortunately, White never entirely brought the entire operation online, but at least there's now Impossibly Funky: A Cashiers du Cinemart Collection, which reprints the best articles the zine had to offer, to let a wider audience understand what was so startlingly amazing about this zine.
Honestly, I didn't need to read this book. One: I was there as it was happening. Two: I still have every issue of the zine buried in my apartment.
For those reasons, in anticipation of writing this review, I didn't even plan to read the entire book. But, I did. I opened it up and from the Introduction written by White's nemesis Chris Gore all the way to the end, I read — or, re-read as it were — the entire thing.
White started out with a proverbial bang. In the very first issue, he was out to prove that Quentin Tarantino had significantly borrowed the entire concept of Reservoir Dogs from an obscure Hong Kong action flick called City on Fire directed by Ringo Lam. Yeah, I know, right? How quaint: Tarantino "borrowing" from other filmmakers.
At the time, though, it was odd since Tarantino was an avid cinephile yet he never mentioned City on Fire as an influence in any interview. Also at the time, Tarantino was pushing himself — and Miramax right alongside him — as the second coming of cinema, so it was pretty heady stuff that some punk from Detroit, who even made a cheapo documentary comparing the two films, was out to "destroy" a cash cow.
Reading back on the whole thing in Impossibly Funky, including a spectacular dust-up with the original founders of the New York Underground Film Festival, is hilarious stuff, especially how "tempest in a teapot" the whole affair sounds now.
After that 15 seconds of notoriety, Cashiers du Cinemart went on to document White's cinematic obsessions, as well as those of his contributors, such as Leon Chase, Andrew Grant and Skizz Cyzyk. These ranged from biographical portraits of Hollywood eccentrics like Paul Williams; charting the decline of major franchises such as Alien and Superman; coverage of mini-genres like "girls with dynamite" and "psycho vixens;" interviews with fringe filmmakers and stars like Bruce Campbell, Guy Maddin and Keith Gordon; and a thoroughly unhealthy infatuation with the film Black Shampoo.
Having run for 15 issues over 14 years, Impossibly Funky can't possibly contain every article ever published in the zine, but the scope and breadth of what is reprinted — along with updates to several pieces — is staggering and awe-inspiring. Of course, fans of the zine might be pissed at some things that aren't reprinted, like I'm kinda bummed that the article that turned me onto hoax filmmaker Mike Z didn't make it in. But, there's too much sheer joy at what is included — such as the piece that hooked me into the delirious pleasures of the Colleen Camp-starring Death Game — to complain.
Those raised exclusively on Internet-based film writing may find this book completely baffling as its completely devoid of the PR-driven news that drives many a film blog. Interviews aren't tied into any specific releases. White and his contributors would jaw just with whomever and whenever somebody agreed to answer questions from a scrappy little zine. There's no slavering devotion to filmmakers unless they're totally obscure folks like John Paizs. Big budget Hollywood films are only referred to by the complete disasters that were avoided, such as Chris Columbus' humorless first draft of Gremlins or the DNA-tampering retconning of Planet of the Apes. (Not that Tim Burton's Apes remake wasn't a disaster sans DNA plot motivation.)
I've missed Cashiers du Cinemart since White stopped publishing it just a few years ago. On the one hand, having the Impossibly Funky book makes me happy. It's really an awesome package. But, on the other hand, the book is just a reminder that the zine is gone for good and that makes me sad. Real sad.
Ah, let's not go down that road. Impossibly Funky is a celebration of one of the best film zines — hell, one of the best film periodicals — of all time. If you remember the zine, the book will bring you back. If you never read the zine, then you're in for the treat of a lifetime.