Idiolects #2 (August to November 1976)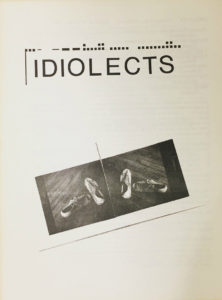 This is an article about the second issue of the avant-garde arts zine Idiolects. An article on the first issue can be read here.
For a small publication with no advertising to support it, publishing on a quarterly basis was an ambitious and impressive achievement for Idiolects. This second issue covers avant-garde happenings in New York City from August to November 1976, primarily film, but not exclusively.
While again there is special thanks given to the Collective for Living Cinema in issue #2's indicia, there's no indication that the Collective was providing financial support. The first issue had a cover price of 10 cents, but the second issue has no price and offers a complicated subscription scheme where potential subscribers are invited to send in whatever amount they want that Idiolects would deduct the price for each issue until subscribers' accounts reach zero.
This issue also actively encourages submissions from authors with specific guidelines on typing margins, spacing and paper type, e.g. no onion skin. Given that the zine appears just to publish ripped-from-the-typewriter formatting without advanced printing techniques, these guidelines make perfect sense. A deadline for issue #3 is given as December 15, 1976.
The editor masthead is a little more clear than with the first issue. Lee Krugman is named as the Managing Editor; with Andrew Anker and Mark Graff serving as Rotating Editors. Out of that trio, Krugman is the only holdover in leadership from the first issue. John Maliga, who served as one of the "Production Coordinators" on the first issue with Krugman, supplies the cover image for this second issue.
Idiolects #2 is much slimmer than the first issue, coming in at just 19 pages including the covers. However, at the same time, it seems a bit more ambitious in the length and content of its articles. The first issue primarily had one-page articles; while the second issue contains mostly two to three page articles.
The first article is by Scott MacDonald, who has since become one of underground film's preeminent writers and scholars through his A Critical Cinema series books of interviews with filmmakers and other books such as Canyon Cinema: The Life and Times of an Independent Film Distributor. MacDonald's contribution is a second review of Larry Gottheim's feature-length film Mouches Volantes, which was originally reviewed in the first issue by Raymond Foery.
Foery is the only contributor in the 2nd issue who also contributed to the first. This time Foery reviews a retrospective of five films of Mike Kuchar, including the classic Sins of the Fleshapoids and Tales of the Bronx. Other film articles include a review of two one-man shows of work by Roger Jacoby; the documentary Dineh: The People; and an expanded cinema performance by Bob Schneider, Syntagm the Sailor Man.
Interestingly, Idiolects #2 includes two non-film based articles. One is an autobiographical story by David M. Cohen about his experiences driving vs. taking the bus; and the other is a review of a dance performance by Susan Russell called Magnolia.
Idiolects also starts considering itself as an information and research source. There is an information page on the filmmakers discussed in the first two issues and tells where interested parties can rent their films, such as from the Film-Makers' Cooperative. Then, Idiolects invites readers to write to the Whitney Museum Film Department for a "complete listing of the film distributors for all shows presented there"; and recommends Hollis Melton's A Guide to Independent Film and Video, published by the Anthology Film Archives, which provides information on film equipment, distribution, publications and sources of funding for filmmakers. The Journal can't confirm if Melton's Guide is actually issue 62 of Film Culture magazine, but it seems likely.
Lastly, the zine concludes with a letters page. Filmmaker Bette Gordon wrote in to chastise Lee Krugman for his unflattering review of her work in the first issue; while John G. Hanhardt, a curator at the Whitney, wrote to correct J. Hoberman's review of videos by Telethon regarding an issue of censorship. Hoberman also provides a short response to Hanhardt.
Below is the full list of articles in this issue:
Idiolects #2
Another Consideration of Larry Gottheim's Mouches Volantes: an attempt to continue an investigation begun in Idiolects by Raymond Foery's review.
Author: Scott MacDonald
Typical Non-Agression
Syntagm the Sailor Man
by Bob Schneider
shown at The Collective for the Living Cinema
Author: Marshall Grossman
I Am Transported
Author: David M. Cohen
Review of Dineh: The People. A Portrait of the Navaho
(presented at the Whitney Museum of American Art)
Author: Mick Eaton
Mike Kuchar
The Collective
for Living Cinema
Oct. 30, 1976
Author: Raymond Foery
Films reviewed:
Light Sketches
Tales of the Bronx
Faraway Places
Sins of the Fleshapoids
Death Quest of the Ju-Ju Cults
The Films of Roger Jacoby
Author: Penkovsky
List of Artists and Works mentioned in Idiolects
Susan Russell
Magnolia
Artist's Space
Sunday, October 24, 1976, 8:30 pm.
Author: Tafler
Letters to the Magazine from:
Bette Gordon
John G. Hanhardt (Curator of Film and Video, Whitney Museum)
J. Hoberman, in response to Hanhardt