Help Support INCITE #4: Exhibition Guide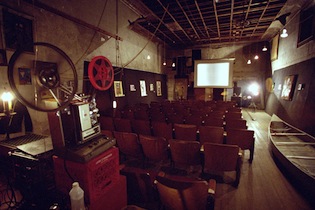 Please help one of the most important and exciting alternative media journals publish their fourth issue! INCITE Journal of Experimental Media #4 is subtitled "Exhibition Guide" and is planned as a special tribute issue to the legacy of Amos Vogel, one of the premiere exhibitionists of underground cinema in the United States.
INCITE #4 is currently raising funds on IndieGoGo to help publish the biggest edition of this indispensable publication yet. Please consider kicking in a couple of bucks. Donation incentives include copies of the issue, but also, for higher donations, copies of the Fractured Eye film journal, silk-screened posters, Other Cinema DVDs, Orphan Film project DVDs, films by Bill Brown and Bill Daniel and lots of other cool items. However, the coolest one has to be the personalized animated film that Leslie Supnet will create for and about you.
On their website, INCITE has already published the table of contents of the issue and it includes articles by Steve Anker, Jeanne Liotta, Bryan Konefsky, Jesse Malmed, Marcus Rosentrater, Walter Forsberg, Bradley Eros, Christina Battle and lots more. The issue is also grouped into sections devoted to Microcinemas, Mobile Cinemas, Expanded Cinemas and Projecting.
From the IndieGoGo fundraising page:
While vertically mapping microcinemas of past and present, this issue also surveys the breadth of alternative media exhibition practice, from Dziga Vertov's agit-train and Bill Brand's metro Masstransiscope, to artists who use film without projectors and projectors without film. INCITE #4 seeks to engage the history of unconventional cinemas by zeroing in on those puzzle pieces that don't quite fit. Lost-and-found in the couch cushions and idiosyncratically dog-eared, these are the components of itinerant and expanded cinema practices that don't take place inside four-walled cinema chambers, on screens, online or, even, in a projector fashion. Hopefully, these aberrations will spur readers to reconsider the whole gambit of moving image exhibition.
This sounds like it will be a necessary and important look at microcinemas and other alternative screening options, a topic that has been long under-served and documented.