Heavy Metal Parking Lot: The Legacy
As I've written a couple times recently, superstar documentarian Jeff Krulik was in Los Angeles recently to talk about his classic underground film Heavy Metal Parking Lot and the world of public access TV in the '80s. HMPL is an underground film in the truest sense. It was a video that skyrocketed in popularity on the VHS tape trading circuit back in the early '90s, all unbeknown to Krulik and his partner John Heyn, who had shelved it after a couple local screenings in the D.C. area.
Krulik and Heyn were completely unaware of the video's popularity until Sofia Coppola contacted them about using excerpts from HMPL in her short-lived show Hi Octane that ran for just a handful of episodes on Comedy Central. Unfortunately, Hi Octane was cancelled before the HMPL footage could run. (And for the record, I was a HUGE fan of that show and was devastated when it stopped airing.)
Krulik and Heyn have since self-released Heavy Metal Parking Lot on a DVD loaded up with tons of bonus footage, including reunions with some of the video's "stars," a couple parking-lot-themed sequels and more. If you haven't seen HMPL, it chronicles an afternoon in 1986 spent with metal fans waiting to see Judas Priest in concert. Most of the folks are in various states of inebriation and mullet-ness and the movie is a total riot.
In addition to Jeff's recent chat, which was conducted by HMPL fan Ed Halter, there appears to be something in the air regarding the video this month and several references to it have popped up online:
1) Whitney Matheson of the widely read Pop Candy blog just mentioned that she's a huge HMPL fan who says:
if you're a friend of mine with any interest in music, there's a good chance I've begged you to see this 1986 documentary
It's that "you've gotta see this" quality of HMPL that has made it such a huge cult hit. And it's nice to see someone with such an influential blog express such exquisite taste.
2) Next up, the site Yuppie Punk conducted a great interview with Krulik, which was actually the occasion for Matheson's post. Included with the interview are photos of Krulik and Heyn with uber-HMPL fan Dave Grohl, who used to watch the video over and over again with Kurt Cobain on the Nirvana tour bus. Anyway, Krulik always spins a great story, so go read the interview.
3) The site COED put up some awesome HMPL trading cards that I've stolen and you can see below: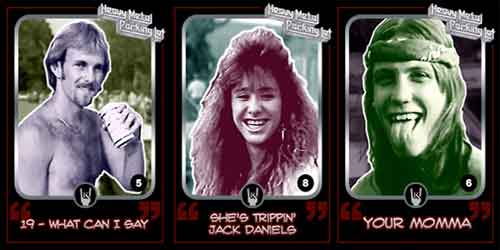 Finally, and this is from awhile ago, Krulik put up on his YouTube channel an audio radio bit featuring Rob Halford in 2005. First, we hear Halford do some station IDs, but a few minutes in the radio hosts ask him if he's seen Heavy Metal Parking Lot. Not only does Halford say he's seen the film, but that he's seen it many times and loves how it captures the spirit of camaraderie among metal fans. We couldn't agree with Rob more. There's no video, but give a listen here: