Harvey Pekar, RIP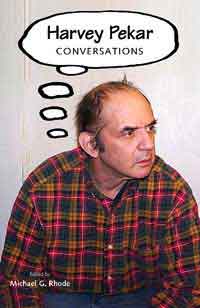 Although comic book author Harvey Pekar was never involved in the underground film world, there's a good chance the Underground Film Journal wouldn't exist without him. He passed away today at 1 a.m.
I still remember buying my first issue of American Splendor — #9 — and being completely enthralled by it, although unaware at how much of an impact this book and Harvey's life would have on my own life and career.
When I started writing movie reviews back in the mid-'90s, my first main inspiration was not to review the films themselves per se. Instead, I kept a chronicle of my own life — the way Harvey chronicled his own — and shoehorned reviews into those autobiographical tales.
It's a little hard to explain what I was going for, but for a sample here's my "adventures" going to see The Virgin Suicides.
In a similar vein, that's how I approached reviewing the films of the 2000 New York Underground Film Festival, which was as close to "live blogging" as I could get in the days before blogs existed.
Eventually, I stopped writing about myself and have just focused on underground film, but it was a long, loopy road to get here that began with me trying to be a junior Harvey, complete with angry rants about the world.
Readers of American Splendor followed Harvey's travails trying to get a movie made about his life, including an icky meeting with Rob Schneider. So, when it was announced that one was finally going to get made, I approached it with a) happiness that Harvey probably made some bread from the deal — I always liked how Harvey called money "bread" — and b) complete apprehension that it would fail miserably in adapting such a beloved comic.
That the film was a total success — artistically, critically and financially — was a serious relief and joy.
Since the film came out, Harvey had his American Splendor series published by DC Comics and he had numerous stand-alone graphic novels come out, including a somewhat maligned, but I thought brilliant history of Macedonia.
He was also writing a webcomic for Smith magazine recently that has some great strips in his classic style.
It just really saddens me that I'm not going to have any more stories about Harvey to read any more. He had a way of writing that was so intimately personal that you really felt like you knew him personally. I've always felt that way and I totally feel like I've lost a good friend.
Goodbye, Harvey, and thanks for all the inspiration.