Happy 90th Birthday, Jonas Mekas!!
Founder of the Anthology Film Archives and the Film-makers' Cooperative. Publisher of Film Culture. Film diarist. Godfather of underground film. Icon. Jonas Mekas, the man without whom we probably wouldn't be here talking about experimental and avant-garde cinema, turns 90 years old today.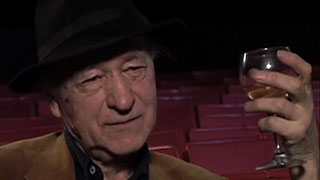 And not only is he turning 90, but he's having one of his biggest years ever. Almost all of his life's film work so far has been released on DVD — in all-region PAL format — through distributors agnes b. and Re:Voir. To coincide with these releases there has been retrospectives and exhibitions at the Centre Pompidou in Paris running through January 7, at the Serpentine Gallery in London through January 27, at the British Film Institute (BFI) coming up in January, and at the Anthology Film Archives that wrapped up last night.
It's a special time to see such a giant in the film world have his life and work celebrated so grandly at such a milestone in his long illustrious life.
To Jonas: Happy Birthday!! And many, many more