Guy Maddin Wins Best Experimental Short Award At 2010 SXSW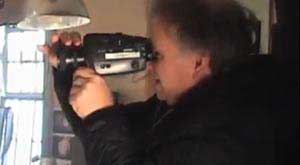 Acclaimed Winnipeg filmmaker Guy Maddin has won the Best Experimental Short award at the 2010 SXSW Film Festival for Night Mayor. The film is a fictional documentary about Bosnian inventor Nihad Ademi who, in 1939, built a machine that harnessed the power of the Aurora Borealis to transmit images of Canadians to themselves.
Created as a tribute to the National Film Board of Canada's 70th anniversary, Night Mayor playfully twists concepts of fact and fiction. Maddin describes the film as a documentary, even though his subject never actually existed, since it was shot documentary style with no planned action or script. Maddin assembled his cast and crew to document Ademi's story as it may have happened and captured the action in his uncanny style of recreating time periods.
You can watch the full film below.
But, before the video, I also want to offer a special congratulations to designer Gilles Vranckx, who was the runner-up for the Best Poster Design award for his poster for the underground film hit Amer by Helene Cattet and Bruno Forzani. You can see Vranckx's trippy poster on his website. (Warning: NSFW!)
That's not to snub the other winners at this year's SXSW, who all deserve congratulations. The full list of winners is posted beneath the video:
Documentary Feature
Marwencol, dir. Jeff Malmberg
Runner-up: War Don Don, dir. Rebecca Richman Cohen
Narrative Feature
Tiny Furniture, dir. Lena Dunham
Special Jury Award -– Best Ensemble
The Myth of the American Sleepover, dir. David Robert Mitchell
Special Jury Award –- Best Individual Performance
Brian Hasenfus
Phillip the Fossil
Feature Film Audience Awards
Documentary Feature
For Once in My Life, dir. Jim Bigham & Mark Moormann
Narrative Feature
Brotherhood, dir. Will Canon
Midnighters
Tucker & Dale vs. Evil, dir. Eli Craig
Short Film Jury Awards
Narrative Shorts
Cigarette Candy, dir. Lauren Wolkstein
Runner Up: Teleglobal Dreamin', dir. Eric Flanagan
Documentary Shorts
Quadrangle, dir. Amy Grappell
Runner Up: White Lines and The Fever: The Death of DJ Junebug, dir. Travis Senger
Animated Shorts
The Orange, dir. Nick Fox-Gieg
Runner Up: One Square Mile of Earth, dir. Jeff Drew
Experimental Shorts
Night Mayor, dir. Guy Maddin
Runner Up: Kids Might Fly, dir. Alex Taylor
Music Videos
Cinnamon Chasers, "Luv Deluxe," dir. Saman Keshavarz
Runner Up: Grizzly Bear, "Forest," dir. Allison Schulnik
Texas Shorts
Petting Sharks, dir. Craig Elrod
Runner Up: The Big Bends, dir. Jason William Marlow
Time Warner Cable & Ovation Young Filmmaker Scholarship for Texas High School Short
Give the Dog a Bone, dir. Edward Kelley
Runner Up: The Sleep Project, dir. Whitney Bennett & Matthew Cunningham
SXSW Film Design Awards
Excellence in Poster Design
Feeder
Designer: Joseph Ernst
Runner Up: Amer
Designer: Gilles Vranckx
Audience Award
Richard Garriott: Man on a Mission
Designer: Michael Anderson
Special Jury Award
Equestrian Sexual Response
Designers: Martim Vian & Zeke Hawkins
Excellence in Title Design
Zombieland
Designer: Ben Conrad
Runner Up: earthwork
Designer: Stan Herd
Audience Award
earthwork
Designer: Stan Herd
Special Jury Award
Enter the Void
Designer: Gaspar Noé and Tom Kam
SXSW Special Awards
SXSW Wholphin Award
Quadrangle, dir. Amy Grappell
SXSW Chicken & Egg Emergent Narrative Woman Director Award
Lena Dunham for Tiny Furniture
Special Award – The Chicken & Egg Pictures "We Believe in You" Award
Martha Stephens for Passenger Pigeons