Movie Trailer: Gravity Was Everywhere Back Then
Have you ever seen a live-action, stop-motion car crash before? What the heck is a live-action, stop-motion car crash anyway? To find out and to see one in action, watch the above embedded trailer for Brent Green's latest project Gravity Was Everywhere Back Then, an animated film starring live actors about a man who becomes trapped by an enormous, maze-like house he built for his wife.
For a special insight into this special scene, read this blog post by star Donna K., which goes into a little bit about how it was actually shot, involving a guy flying through the air on a crane and two cars getting busted up between shots. The end product is really kind of freaky — and cool — looking.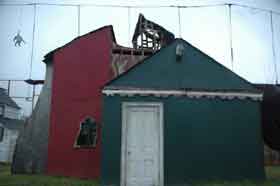 Actually, I'm very anxious to see the entire film and this trailer is just fueling the fire. It's based on the true story of Leonard Wood who, when he discovered his wife Mary was dying, he built her a patchwork-like house that he felt would cure her. For the film, Green built a version of Wood's crazy, sad home.
The film is set to premiere in NYC at the IFC Center on May 7th. But also, Green has deconstructed the house he built and will be reassembling it at the Andrew Edlin Gallery, also in NYC, from April 17 to June 5. There are also other art and performance shows planned by Green in the works, so follow either his own blog for updates or the blog of his collaborator, Donna K.