George Kuchar, R.I.P.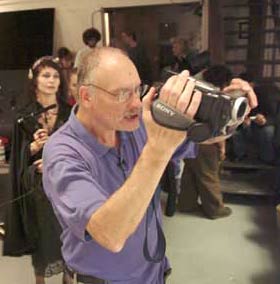 Numerous sources have confired today that underground filmmaking legend George Kuchar passed away last night, Sep. 6. He was 69 years old and just celebrated his last birthday on August 31.
Those who were closest to the filmmaker knew that he was very ill with cancer and, from what the Underground Film Journal can gather, had a difficult summer.
(Above image courtesy of Jennifer Kroot's documentary It Came From Kuchar.)
Without argument, George Kuchar is one of the — if not the most — influential, inspiring and beloved figures in underground history. He and his twin brother, Mike, began making films while still teenagers living in their Bronx neighborhood in the early 1950s with films such as The Wet Destruction of the Atlantic Empire (1954).
While their style of making campy homages to classic Hollywood movies was very different than most other avant-garde cinema at the time, the pair were warmly embraced by the NYC downtown artistic filmmaking scene. In the early '60s, George and Mike split up creatively and began making solo projects.
In George's early career, as the underground became more focused on purely experimental and structuralist fare, he continued with both his melodramatic parodies as well as more autobiographical fare such as his classic Hold Me When I'm Naked (1966). One of George's biggest fans at the time was a young John Waters.
Eventually, George left NYC to move across the country to teach filmmaking at the San Francisco Art Institute, where he collaborate on his movies — or, as George would say, "pictures" — with his students, including Sarah Jacobson and Bob Moricz.
George's narrative films would become more influenced by supernatural storylines in pictures such as Planet of the Vamps and The Stench of Satan. In addition with his work with students, George also made numerous personal video documentaries, including documenting his regular trips to the American Midwest on school breaks to chase storms.
George Kuchar's impact on both the underground specifically and all of filmmaking generally is difficult to quantify. Although, out of all of his filmmaking honors and accomplishments, one overarching truth especially stands out: He was loved by all.