Gamers Gets New Rep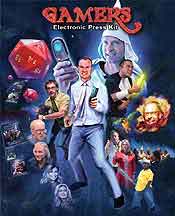 Writer/director/producer/handsome hunk of manliness Christopher Folino reports on his blog that his so-far self-released debut film Gamers has picked up a new film rep who will be helping distribute the film. That rep is Circus Road Films.
You can read the most excellent Underground Film Journal review of Gamers here where I said "Gamers is an amiable, likeable — and funny — film." Hey, Circus Road — You can put that on the poster!
Honestly, I hadn't heard of Circus Road Films before this announcement, but they have an interesting slate of films on their site. Plus, Christopher sounds very excited on his blog, so I'm excited for him.