Gamers: Available In Comic Stores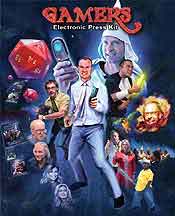 Gamers director Christopher Folino reports on his MySpace blog that his self-released mockumentary about a quintet of obsessed role-playing game nerds has been selected by Diamond distributors so that the DVD will be sold in comic book stores this October.
For those of you not in "the know" about the comic book business, Diamond is the monolithic and practically monopolistic distributor to all North American comic book stores, many of which sell role-playing games and gaming supplies. So, this is a huge score for the film and sounds like a marriage made in Heaven.
The Underground Film Journal gave Gamers an enthusiastically positive review here. While of course the film has immediate appeal to gamers, this is not a film just for gamers. I could care less about gaming and thoroughly enjoyed this highly entertaining comedy.
And in other Gamers news, Folino also reports that his film won the "Best Professional Film" award at Gen Con INDY 2006.
And there will be a segment on the film on Spike TV's Game Head show this Saturday (9/30) at Midnight. Tune in. We'll be setting the DVR.
Finally, more info can be found at the film's official site.