Full Film Online: The Livelong Day
Embedded above is a simply amazing and fascinating documentary by filmmaker David Fenster called The Livelong Day, about model train enthusiasts. It runs about 20 minutes long and is an intimate, revealing portrait of an obsessive, lifelong-commitment hobby, but with real care given to understanding what draws these men to its lifestyle.
I reviewed the film a couple months ago on the Underground Film Journal and really admired the way Fenster dramatically brings the viewer into this subculture visually. There are plenty of interviews with several hobbyists throughout the film, but those are presented solely as VO while the camera documents in great detail the work these men do — and they're all men — to bring to life an enormous train display at the San Diego Model Railroad Museum.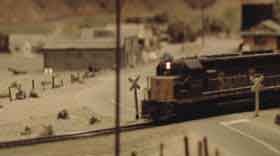 Subcultures are always an illuminating subject for documentaries, exposing us to worlds we aren't typically familiar with. The Livelong Day is clearly aimed at a non-train audience and it's not a promotional piece for the museum specifically or for the hobby generally. It's just there to let us know it exists, which allows the audience to think about their own interests and their involvement in them.
David Fenster is an absolutely wonderful documentarian and he recently uploaded several of his films to Vimeo, which I recommend you check out. I plan on promoting more of his films on the Underground Film Journal in the near future.