Feature Film Online: It Came From Kuchar
Ahh, if only all filmmakers retained the childlike enthusiasm for movie making like the Kuchar brothers do… Well, I guess if everybody did, then George and Mike wouldn't be so unique. Jennifer M. Kroot profiles the underground film legends, who have been going strong for over 50 years now, in the engaging documentary It Came From Kuchar. Their story is an inspiring one, fulfilling their lifelong obsession with film not for fame or fortune, but just out of the sheer joy of making entertainment. You can watch the entire documentary embedded above.
Kroot clearly favors George in the documentary, I think through both design and circumstance. Mike is clearly more reclusive, especially after a troublesome trip to the Himalayas, the story of which is covered in the film. George is the gregarious, outgoing type, which is what has led him to become such a beloved instructor at the San Francisco Art Institute.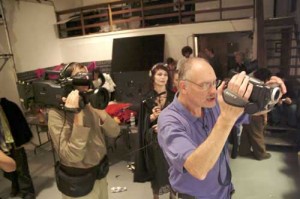 The film is a treat for both Kuchar fans and novices alike. Although making films since the late '50s, their work is still extraordinarily hard to come by. Kroot includes tons of clips, particularly of their early collaborations and the first few years after they went their separate filmmaking ways. (Watching this again, I was especially happy to see scenes from Born of the Wind, the 1961 film whose poster I admire so much.)
It's also interesting to note how divergent their styles split over the years, with George seemingly obsessed with campy horror epics and Mike resorting to poetic "portraits" of people he's enamored with. George is also apparently obsessed with documenting as much minutia of his own life, from his weather journal trips to gatherings with friends where he "directs" the action of dinner parties. They're twins, they're both inspired by the same films they saw as children, yet they couldn't be further apart stylistically these days.
I originally reviewed the film earlier this year during its mini-theatrical release. It was a nice screening to see here in Hollywood that had the documentary, a few of the brothers' recent short films, plus Kroot and interview subject Buck Henry were in attendance for a Q&A.
As I noted in that review, the film really makes one want to go and pig out on a feast of Kuchar films, but most of their oeuvre is sadly impossible to find. Thanks to the film, more people know about these unique filmmakers and hopefully someday their work will become more accessible.
It Came From Kuchar photo gallery: